S'mores recipes for National S'mores Day
Do we really need an excuse to nibble the irresistible combination of graham crackers, melted chocolate and toasted marshmallows? Of course not! But in honor of National S'mores Day on August 10, we can certainly experiment with the ingredients and transform them into a tasty array of s'mores-inspired desserts. Here's how we're celebrating the Day of S'mores.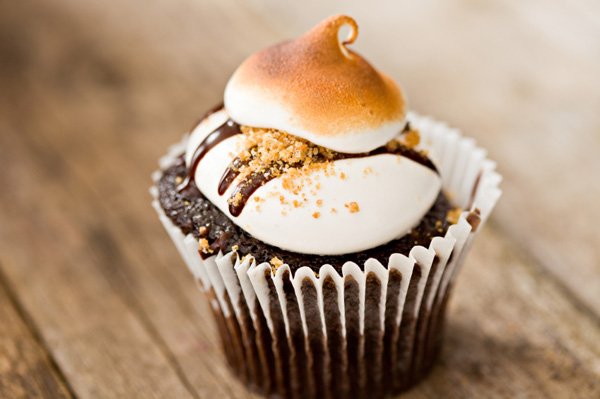 Who created s'mores?
If you're making s'mores or the following s'mores dessert recipes with your kids, use the opportunity to teach them a little graham cracker, chocolate and toasted marshmallow history. The first recorded rendition of s'mores was in 1927 in the publication Tramping and Trailing with the Girl Scouts. The original recipe was called "Some More" (as in give me some more!). The recipe title was eventually shortened to S'more -- and the rest is campfire history.
Gourmet s'mores recipes
S'mores cupcakes
Yields 20
Moist chocolate cupcakes from a box mix get a fancy update topped with a toasted homemade marshmallow frosting and crushed graham crackers.
Ingredients:
1 (18 ounce) box chocolate cake mix
5 egg whites, at room temperature
1 cup granulated sugar
1/4 teaspoon cream of tartar
1 teaspoon vanilla extract
1 cup crushed graham crackers
Directions:
Preheat oven to 350 degrees F and line 2 muffins pans with 20 cupcake liners.
Prepare the cake mix according to the package directions.
Divide the batter evenly among the muffin cups.
Bake for 20 to 22 minutes or until the cupcakes bounce back when pressed.
Let them cool in the pan for 5 minutes, then remove the cupcakes from the pan and let them cool on wire racks.
Meanwhile, combine the sugar, egg whites and cream of tartar in a medium bowl. Set it over a pot filled with a couple of inches of barely simmering water.
Whisk the mixture frequently to prevent the egg whites from cooking. Continue whisking until the mixture reaches 160 degrees F.
Remove the bowl from the heat and whisk the egg mixture until stiff peaks form. Stir in the vanilla extract.
Top each cupcake with a dollop of frosting and sprinkle with graham cracker crumbs.
Top with another dollop of frosting.
Use a small kitchen torch to gently toast the tops of the frosting.
S'mores milkshake
Serves 4
Ingredients:
4 cups chocolate ice cream
2 cups milk
1-1/2 cups crushed graham crackers
4 large marshmallows
Shaved dark chocolate
Directions:
Place the ice cream and milk in a blender and blend it until it is smooth.
Fill four tall milkshake glasses with 1/3 of the milkshake and scatter generously with the graham cracker crumbs. Repeat layering 2 more times.
Place the milkshakes in the freezer.
Working quickly, lightly toast the marshmallows using skewers and your stove top.
Drop a marshmallow into each milkshake and garnish with dark chocolate shavings.
Serve it immediately.
S'mores dark chocolate bark
Serves 8
This recipe may not deliver the toasty marshmallow flavor you get from campfire s'mores but it does have the convenience of being able to make them at home (without the campfire smell).
Ingredients:
2 cups chopped dark chocolate
1-1/2 cups Teddy Grahams, divided
1 cup miniature marshmallows, divided
Directions:
Line a rimmed baking sheet with aluminum foil.
In the top of a double boiler over simmering water, melt the chocolate, stirring often, until it is smooth.
Set it aside until the chocolate is still melted but cool to the touch.
Stir in 3/4 cup of the Teddy Grahams and 1/2 cup of the marshmallows.
Pour the chocolate onto the prepared baking sheet and use a spatula to spread it into an even layer.
Sprinkle the remaining Teddy Grahams and marshmallows evenly on top, and gently press them into the chocolate.
Refrigerate until the chocolate is very firm.
Break into pieces and store in an airtight container layered with waxed paper for up to 5 days.
More s'mores-inspired recipes
S'mores cheesecake ice cream
Simple s'mores pie
S'mores popcorn bars
---
More From SheKnows Explorer
---
---