Breakfast recipes to celebrate the first day of school
A special breakfast adds to the fun of the first day of school, so make it a morning party with quick and easy recipes.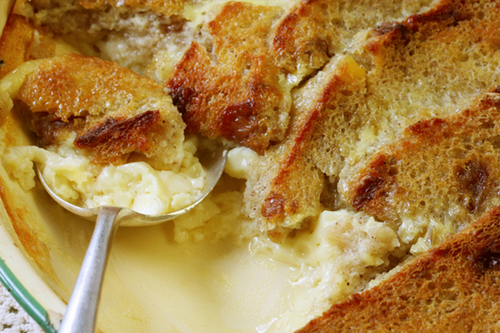 Send your kids off to the first day of school with a breakfast that's more than nutritious and filling. Celebrate the new school year with an easy and special meal that puts a smile on everyone's face to start the day!
Baked French toast
This fast and easy kid-pleaser can bake while the kids get dressed in their first-day best, and it is a tangy way to start the day. Soak thick-cut slices of French bread or baguette overnight in orange juice. In the morning, roll the moist slices in crushed cornflakes to form a crust and pop them in the oven at 350 degrees F. Bake for 15 minutes and serve with maple syrup and sliced fruit.
Jiffy pecan rolls
Refrigerated buttermilk biscuits are the secret to this sweet breakfast treat! Heat the oven to 375 degrees F and drop a pat of butter, a slice of banana, a spoonful of brown sugar and a sprinkle of crushed pecans into each section of a muffin tin. Top each compartment with a refrigerated biscuit and bake until golden brown, about 10 minutes. Place a baking sheet on top of the hot biscuits and flip, carefully tapping to release the rolls. Serve warm with a glass of cold milk.
Green eggs and ham
Kids will gobble up this easy version of green eggs and ham — scrambled eggs with ham, cheddar cheese and chopped chives. This breakfast dish is much easier and quicker to put together than an omelet, but it still packs plenty of cheesy flavor. Cut chunks of ham and cheese and add them with chopped chives to the eggs. Beat together well and scramble lightly in a hot skillet. What could be simpler? Serve the eggs and ham with wheat toast and icy melon cubes.
English muffin pizzas
Why not start that exciting first day of school with a pizza party? Kids love pizza, and in under 15 minutes you can serve up English muffin pizzas to start their day with a smile! Toast eight muffins and place them on a baking sheet. Drizzle each half with olive oil, and then layer on a slice of tomato, slices of hard-boiled egg (one-half egg for each) and a topping of grated mozzarella cheese. Sprinkle with oregano and kosher salt and broil until the cheese melts, about five minutes.
Quick huevos rancheros
Make a scaled-down version of spicy huevos rancheros in minutes! This scrambled egg mixture takes beaten eggs, crushed tortilla chips and folded-in jarred salsa. Just stir ingredients together and scramble up in a hot skillet. Place the egg mixture into a flour tortilla for a grab-and-go breakfast treat when you head for the carpool or bus stop.
Fruity farina
For a creamy change from oatmeal on a chilly morning, cook up comforting farina cereal and scoop it into bowls with a spoonful of brown sugar, some chopped apricots and a sprinkling of almonds. The sugar melts when you scoop in the hot cereal, creating a sweet and satisfying syrup that kids love
Discover more breakfast ideas
Deconstructed cereal breakfasts
Breakfast recipes to celebrate the first day of school
Smoothie recipes to make mornings easier
.