Chocolate marshmallow banana boats
Grilling isn't all about meat. Treat your kids (and yourself) to chocolate marshmallow banana boats and other banana treats.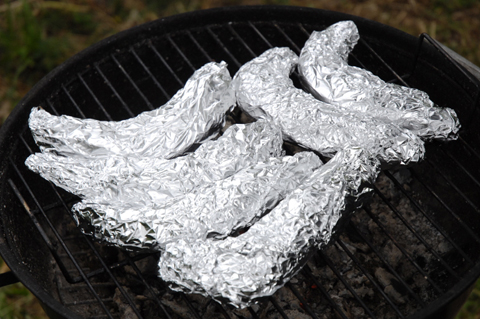 Chocolate marshmallow banana boats
Serving size 6

Ingredients:
6 unpeeled bananas
1/4 cup mini chocolate chips
1/4 mini marshmallows
Finely chopped walnuts
Directions:
Cut the bananas lengthwise (but not all the way through) along the inner curve to form a pocket in the banana flesh.
Fill each pocket with chocolate chips, marshmallows and walnuts.
Wrap each banana in aluminum foil leaving about 2 inches of headspace. Place on the grill rack over indirect heat.
Cover the grill and cook for 15 minutes. Squeeze the banana lightly with a pot holder. If it has a slight give without being overly mushy, then it's done. Keep in mind that ripe bananas will take longer.
Unwrap and eat with a spoon. Don't worry if the banana peel is black -- it's expected.
If you are camping, you can place the foil directly on the hot coals to cook. If you are indoors, you can bake your banana boats in the oven on 400 degrees F for about 20 minutes.
Grill bananas
Another alternative is that you can cook peeled bananas directly on the grill! Peel your bananas and place them on the grill perpendicular to the grates. Grill 5 minutes on each side until they are slightly soft. Serve with crushed pineapple, cinnamon, hot fudge or caramel sauce.
Banana s'mores
This is a new twist on one of our childhood favorites. Grill unpeeled bananas in their skin for 5-7 minutes on each side until they have softened. Remove from the heat and carefully slice open the skin. Scoop out a spoonful of the banana flesh and place it on a graham cracker square. Add a small piece of a chocolate bar on top and then another graham cracker. Press together and eat!
More about grilling
Grilled pizza recipes
Top 10 steak grilling tips
Unusual things to grill