Peanut butter and jelly French toast recipe
Forget the high sugar breakfast cereals this morning, instead, whip up a breakfast your kids will love -- peanut butter and jelly French toast! This delicious rendition of French toast is made with the same ingredients as their favorite sandwich, just cooked in a whole new way. Plus, this dish is healthier than most French toasts and is full of protein. A dish both you and the kids will feel happy about!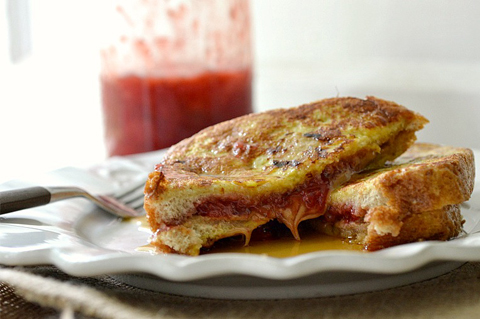 Peanut butter and jelly French toast
Serves about 6
Recipe adapted from Taste of Home
You can use any flavor of jam you prefer, but we made ours with homemade low-sugar strawberry jam for an even healthier breakfast. This French toast makes a great addition to your lazy Saturday morning or when you need the extra encouragement to get your kids out of bed on a weekday!
Ingredients: 
12 slices whole wheat bread
3/4 cup low-sodium peanut butter
1/3 cup homemade strawberry jam
3 eggs
Dash of salt
1/4 cup low-fat milk
1/2 cup light cream
2 tablespoons butter
Fresh maple syrup
Directions: 
Spread the peanut butter on six of the pieces of bread. Cover the peanut butter with jelly and put the other six slices of bread over the jelly to make sandwiches.
In a bowl, beat the eggs, milk and cream together. Dip the whole sandwich into the egg mixture.
Heat the butter in a large skillet over medium-high heat. Once it is hot, put the sandwiches onto the skillet and cook them until both sides are golden brown, about 3 minutes on each side.
Remove them from the heat and garnish with peanuts and maple syrup or powdered sugar.
More kid-friendly breakfast recipes
10 Kid-friendly breakfasts on the go
5 Ways to get kids to eat breakfast
5 Fresh kid-friendly breakfast creations