Italian red beans and rice
The always-loved red beans earn some extra flavor from Italian sausage, while Arborio rice steals the show with its starchy goodness. Change up the weekly dinner menu with this budget-friendly and delicious variation.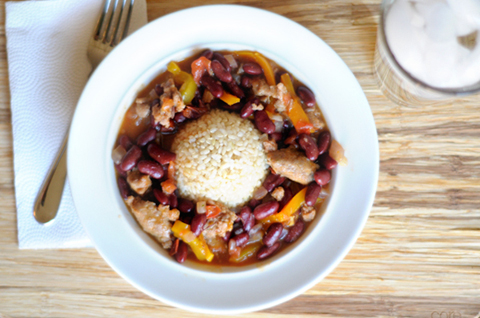 Italian red beans and rice
Serves 6
Ingredients:
1 pound Italian sausage
2 (15 ounce) cans red kidney beans, drained and rinsed
3 large tomatoes, chopped
2 bell peppers, sliced
1 red onion, chopped
2 cloves garlic, minced
1/2 cup chicken stock
1 tablespoon olive oil
1 tablespoon cornstarch
1 teaspoon salt
1 teaspoon cayenne pepper
1/2 teaspoon paprika
1/2 teaspoon pepper
2 cups Arborio rice
4 cups water
Directions:
To make the rice, bring 4 cups of water to a boil and add the Arborio rice.
Bring it back up to a boil, then reduce the heat and cover it and cook for 20 minutes or until the rice is done.
Set it aside. In a large pan with a lid, heat the olive oil over medium heat.
Brown the sausage and break it up with a spoon.
Add in the onions, pepper, garlic and tomatoes and stir to combine.
Stir in the salt, cayenne pepper, black pepper and paprika.
Cover and simmer for 10-15 minutes until the sausage is completely cooked through and the vegetables are tender.
In a small bowl, stir together the cornstarch and chicken stock. Add to the pan and stir it to combine.
Let it simmer for about 5 minutes to thicken.
Serve the sausage mixture with the cooked rice.
More delicious dishes