Raspberry yogurt muffins
With the bright pop of flavor and color from fresh or frozen berries, these muffins are a surefire way to create a delicious breakfast for the entire family. Yogurt packs in the protein, and add a smear of peanut butter for a perfect afternoon snack!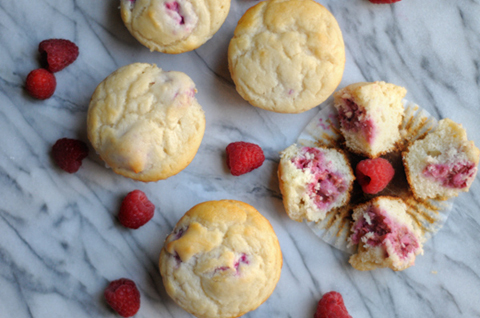 Raspberry yogurt muffins
Makes 12 standard muffins
Ingredients:
1 cup vanilla yogurt
1/2 cup milk
2 eggs
3/4 cup granulated sugar
1/2 cup melted butter, slightly cooled
3 cups all-purpose flour, plus 1 tablespoon
1 tablespoon baking powder
1/2 teaspoon salt
6 ounces fresh or frozen raspberries
Directions:
Preheat the oven to 375 degrees F.
Line a muffin pan with muffin cups or spray with nonstick spray. Set it aside.
In a large bowl whisk together the yogurt, milk, eggs, sugar and melted butter.
Sift in the 3 cups of flour, baking powder and salt.
Gently mix until just combined. Do not overmix.
In a small bowl toss the raspberries with the remaining tablespoon of flour.
Then gently fold in the raspberries with the rest of the batter.
Evenly portion the batter into the prepared muffin tin.
Bake for 20-25 minutes or until a toothpick inserted comes out clean.
Let them cool for 5 minutes before eating.
More fantastic muffin recipes
Maple glazed apple cinnamon chip muffins
Chocolate love muffins
Easy zucchini muffins