Garden-fresh vegetable recipes your kids will love
Teaching your kids to cook their vegetables is one of the best ways to get them to eat their veggies. Here are five kid-friendly recipes featuring summer's garden bounty.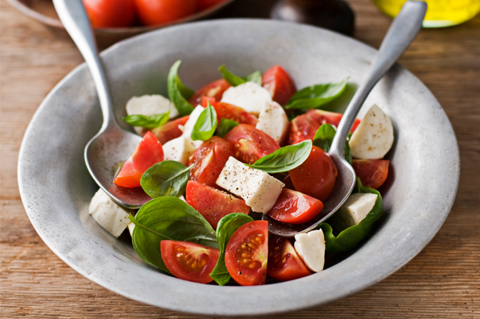 Tomato caprese salad
Serves 4
Caprese salads sound so fancy, yet are super easy for kids to assemble. Bring in the vine-ripe tomatoes and fresh basil, lunch is about to be served.
Ingredients:
3 to 4 large tomatoes, cored, thickly sliced
6 to 8 ounces fresh baby mozzarella balls (or a large ball, sliced)
8 to 10 fresh basil leaves
2 to 3 tablespoons garlic-flavored olive oil (try Garlic Gold olive oil)
Salt and freshly ground black pepper
Directions:
Set out a large serving platter and let your kids arrange the tomatoes, mozzarella and basil leaves any way they please.
Teach your kids how to drizzle the olive oil evenly over the salad and season with a pinch of salt and a few grinds of black pepper.
Serve immediately or keep chilled until ready to serve.
Mom's note: Make a caprese sandwich for lunch by tucking sliced tomatoes, mozzarella and basil in pita pockets or between slices of whole grain bread.
Summer squash ribbons
Serves 4
Brightly colored, low in calories, and a tasty way to use up the extra summer squash in your garden, these veggie ribbons can be tossed with pasta or used as pasta. This recipe is a great opportunity to teach your kids how to use the vegetable peeler.
Ingredients:
4 zucchini, yellow summer squash, or a combination of both, ends trimmed
2 carrots, ends trimmed
2 tablespoons olive oil
1/4 cup minced red onion
2 garlic cloves, minced
1 teaspoon fresh thyme leaves
2 tablespoons finely chopped fresh parsley
Salt and freshly ground black pepper
Shaved Parmesan cheese
Directions:
Have your kids use a vegetable peeler to shave summer squash and carrots into long ribbons.
Heat oil in a large skillet over medium heat and add ribbons. Teach your kids how to use the tongs to carefully toss the ribbons occasionally until they are tender.
Add the red onion, garlic, thyme and parsley and continue to toss for 1 to 2 more minutes or until the red onion is tender.
Season with salt and pepper. Transfer ribbons to a serving platter and let your kids scatter cheese overtop.
Serve warm.
Mom's note: To make the ribbons a vegetarian dinner entree, toss with cooked fettuccini and a tomato sauce. You can also add chickpeas, walnuts or cooked chicken to make it more substantial.
Chilled carrot soup
Serves 4 to 6
Plucking carrots from the ground (or from the farmers market table) and transforming them into a gingery sweet soup can turn a picky eater into a child who loves garden-to-table veggies. Best yet, this recipe has just a few ingredients, making it especially kid-friendly. Plan ahead since the soup needs to be chilled.
Ingredients:
2 cups water
1-1/2 pounds carrots (weighed after the tops have been trimmed off), cut into evenly-sized chunks
1 heaping tablespoon minced fresh ginger
1 clove garlic, minced
1-1/2 cups coconut milk
Generous pinch of salt
Directions:
Have your kids put the water, carrots, ginger and garlic in a large pot over medium-high heat.
Bring it to a boil, reduce the heat to medium-low, cover the pot and cook it for 25 minutes or until the carrots are tender.
Remove the pot from the heat and stir in the coconut milk and salt.
Use an immersion blender to puree the mixture. (You can also puree it in a blender or food processor.)
Place it in the refrigerator until it is cold.
Let your kids whisk the soup a few times then use a ladle to serve it.
Easy veggie mini pizzas
Serves 4
If making pizza dough with your kids seems daunting, improvise with English muffins. Veggie pizzas can be topped with any garden-fresh ingredients you have on hand.
Ingredients:
8 whole grain English muffins, split
1-1/2 cups marinara sauce
1 small zucchini, thinly sliced crosswise
1 tomato, halved, thinly sliced
2/3 cup corn kernels
2/3 cup sliced olives
2 cups shredded cheese
Directions:
Teach your kids how to set the oven controls to preheat the oven to 400 degrees F.
Set the English muffins, split side up, on a large baking sheet.
Let your kids spoon the sauce onto each English muffin half then top with the zucchini, tomato, corn and olives.
Have them sprinkle the cheese on top of the ingredients.
Bake for 12 to 15 minutes or until the cheese is melted, bubbly and lightly browned.
Serve hot.
Roasted corn salsa
Serves 4
Whether you're fortunate enough to have corn growing in your garden or simply can't get enough of the fresh cobs of corn at the farmers market, this corn salsa is a fun way to show your kids that there are many ways their favorite vegetables can be enjoyed. Depending on the age of your kids, you can use this recipe to help them learn how to use a knife.
Ingredients:
6 large ears corn, husked, silky hair removed
1 red bell pepper, seeded, diced
1 jalapeno, seeds and membranes removed, minced
1/4 cup finely chopped red onion
Zest and juice of 1 large lime
3 tablespoons chopped fresh cilantro
Directions:
Using a sharp knife, remove the corn kernels from the cob. (Since holding corn cobs upright can be tricky for young hands, this is a job for mom.)
Let your kids scoop corn into a large bowl and add in red bell pepper.
Heat a dry cast-iron skillet over medium heat until hot. Have your kids carefully pour corn mixture into the skillet.
Cook, stirring occasionally, until the corn is lightly browned.
Transfer the corn back to the large bowl.
Let your kids add the remaining ingredients and stir.
Serve immediately or refrigerate until it is ready to serve.
More vegetable recipes your kids will love
Scalloped potatoes and vegetables
Vegetable chip recipes
3 Ways to eat zucchini