Ice cream sandwich critters recipe
July is National Ice Cream Month – it's a good thing, too. The temperatures are spiking and we're all engaging in loads of family activities that can only be better with this sweet, creamy treat. Featuring ice cream or sorbet, sandwich cookies and your favorite bite-sized candies or decorating frosting or gel, this creative recipe is just as fun to make as it is to eat.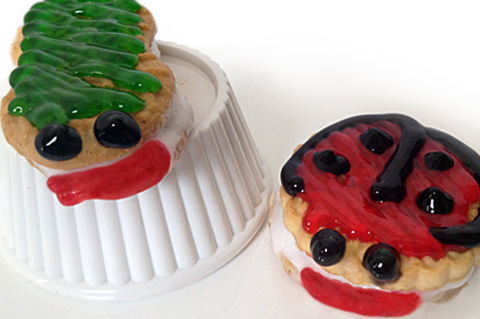 Ice cream sandwich critters recipe
Serving size 2 - 3
This fun and flexible recipe is a great surprise at a kid's party or a fun activity for parents and kids to do together. All you need are some common ingredients, many of which you already keep around the house and a vivid imagination.
Ingredients:
Sandwich cookies of any variety
Your favorite ice cream
Small candies (optional)
Tubes of decorating frosting or gel in various colors
Directions:
Open the sandwich cookies and use a butter knife to scrape out the cream filling (if your using peanut butter cookies, you can leave it if it would taste good with the ice cream you chose).
On one half of each cookie sandwich, spread some ice cream as thick as you'd like (try to keep it bite-sized, though). If the ice cream is too hard, you can allow it to soften so it won't break the cookies, but be careful not to let it melt too much or it will make your cookies soggy. If you need to, you can pop them in the freezer and let them set a little before continuing.
Place the other half of each sandwich cookie back on the sandwich, pressing somewhat firmly until the ice cream holds the cookies on and the sandwich is flat. Use the back of the knife to scrape off any ice cream that squeezes out.
Place the cookies on a plate or pan lined with wax paper in the freezer to re-harden. Time will vary based on the kind of ice cream you choose and your freezer, but it should be about an hour.
Remove each cookie one at a time (use a spatula if any of the cookies stick) and use the frostings, gels or candies to create adorable lady bugs, happy grasshoppers, cute caterpillars and more -- you're only limited by your imagination!
More ice cream recipes
Red, white and blue ice cream bars recipe
5 Favorite family ice cream snacks
Ice cream cup cakes