Chili mac and cheese cups recipe
Mac and cheese is the one food you can get just about any kid to eat, regardless of how picky they are. As delicious as homemade mac and cheese is, the same old recipe can get a little boring. Spice up your family's favorite mac with this innovative recipe! These bite-size mac and cheese cups are baked into ramekins and topped with homemade chili. Portion-controlled and protein packed -- what's not to love?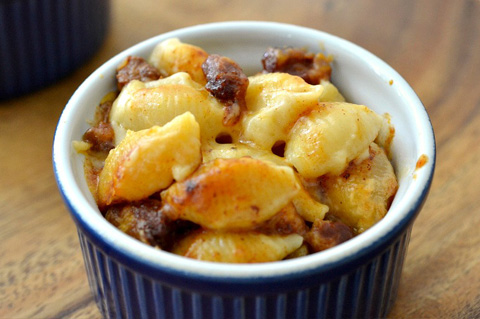 Chili mac and cheese cups
Yields 6 cups
Not only will these bite-size mac and cheese cups be a hit at your dinner table, they are a great recipe idea for birthday parties and picnics too! If your family is vegan, skip the meat in the chili and make it three-bean instead.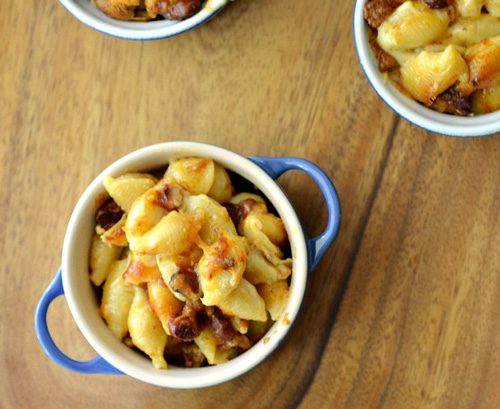 Ingredients: 
7 ounces shell noodles
2 tablespoons butter
2 tablespoons flour
1/2 cup light cream
1 tablespoon skim milk
1 cup cheddar cheese
1 cup mozzarella cheese
Liberal dashes of salt and pepper
1/2 cup homemade chili
Extra cheddar cheese for garnish
Directions:
Spray the bottom of six ramekins with non-stick cooking spray. Preheat your oven to 350 degrees F.
Bring a pot of water to a rapid boil. Add a dash of salt to the pasta and cook it until it is al-dente, about 6 minutes. Rinse and set aside.
Heat the butter in a 3-quart pan over medium-high heat. Once melted, stir in the flour until a thick roux forms. Add in the cream and milk. Sprinkle the mixture liberally with salt and crushed black pepper. Reduce the heat to medium and cook until the mixture thickens, about 4 minutes. Remove from the heat and immediately stir in the cheeses. Add additional salt and pepper to taste.
Mix in the pasta until it is covered by the sauce. Scoop the macaroni and cheese into the ramekins and fill them about 2/3 of the way full. Scoop a hefty tablespoon or so of the chili on top of each ramekin over the macaroni. Add more chili if you'd prefer. Sprinkle each ramekin with cheddar cheese.
Bake for about 25 to 30 minutes, or until the mixture is bubbly. Serve warm and enjoy!
More kid-friendly dinner recipes
5 Healthy (but yummy) family meals
Vegetarian recipes for kids
Quick and easy dinner recipes for kids