The best fried chicken dinner
Fried chicken and summer are an unbeatable pair. Whether you fry up a big batch for a family reunion or want to go beyond the grill for dinner, here is one of our favorite fried chicken recipes along with a tasty selection of side dish recipes to accompany your deliciously fried bird.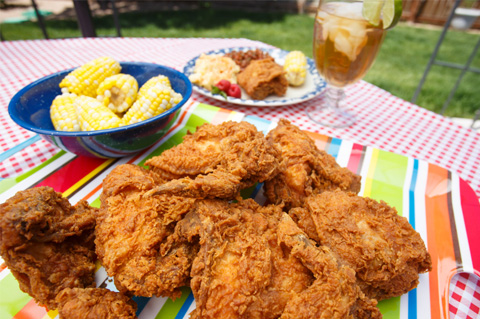 Easy fried chicken
Serves 4 to 6
Ingredients:
1 (4-pound) pre-cut chicken
1-1/2 teaspoons salt
1 teaspoon freshly ground black pepper
1/2 teaspoon cayenne pepper
1 cup buttermilk, shaken well
3 cups vegetable shortening
3 cups all-purpose flour
Directions:
Place the chicken pieces in a large bowl and season with the salt, pepper, cayenne and toss to coat evenly. Cover with plastic wrap and refrigerate for 1 hour.
Pour the buttermilk in a large bowl and transfer the chicken to the buttermilk, making sure all of the pieces are coated.
Heat the vegetable shortening in a large, deep skillet to 350 degrees F.
Place the flour in a large bowl. Remove the chicken from the buttermilk, allowing any excess liquid to drip off, and transfer the chicken to the flour and toss to coat well.
Working in batches, start with the larger pieces of chicken, shaking off excess flour from the chicken and add to the skillet in a single layer. Be sure you do not overcrowd the skillet.
Fry the chicken for 6 to 8 minutes on each side, using tongs to turn the pieces as necessary. Keep your eye on the temperature and make sure the oil stays at 350 degrees F.
Transfer the fried chicken to a plate lined with paper towels to drain.
Serve it hot with side dishes of your choice.
Grilled corn with sweet coconut flakes and spicy mayo
Serves 4
Featured in Angelo Sosa's cookbook Flavor Exposed, grilled corn gets a fancy, flavorful update with a hot sriracha mayonnaise and a garnish of sweetened, toasted coconut flakes.
Ingredients:
4 ears corn, shucked, silky hair removed
4 tablespoons (1/2 stick) unsalted butter
2 fresh thyme sprigs
2 cups mayonnaise
1/4 cup sriracha sauce
1 tablespoon salt
3/4 cup sweetened coconut flakes, lightly toasted
Directions:
Preheat your grill to medium high.
Put a large pot of water over medium-high heat.
Add the corn, butter and thyme to the water and bring it to a boil. Reduce the heat to a simmer and cook it until the corn is tender, about 10 minutes.
Remove the pot from the heat and drain. Set the corn aside until it is ready to grill.
Meanwhile, in a blender, combine the mayonnaise, sriracha and salt. Blend it until it is smooth.
Grill the corn, turning occasionally, until it is nicely charred on all sides.
To serve, spoon a dollop of the spicy mayonnaise on each of the ears of corn and garnish it with coconut flakes.
Zucchini slaw
Serves 6
Swap out cabbage for the summer squash that's taken over your garden. This zucchini slaw has a tender bite and features a creamy sweet-tart dressing.
Ingredients:
2 zucchini, ends trimmed, cut into matchsticks
1 yellow summer squash, ends trimmed, cut into matchsticks
2 carrots, cut into matchsticks
1/4 cup finely chopped red onion
1/4 cup finely chopped fresh parsley
1/2 teaspoon celery seeds
2/3 cup lite mayonnaise made with olive oil
1 tablespoon Dijon mustard
2 tablespoons honey
1 tablespoon cider vinegar
Salt and freshly ground black pepper to taste
Directions:
In a large bowl, combine the zucchini, summer squash, carrots, red onion, parsley and celery seeds.
In a small bowl, whisk together the mayonnaise, mustard, honey and vinegar.
Pour the mayonnaise mixture over the zucchini mixture and toss it well to coat.
Season it with salt and pepper and toss it again.
Serve it immediately.
More tasty side dishes for fried chicken
Honey barbecue beans
Cheesy jalapeno biscuits
Gourmet potato salad recipes
---
More From SheKnows Explorer
---
---