Summer tomato and ricotta calzone
Looking for the best way to utilize the fresh tomatoes growing in your garden? Can't resist the temptation offered up at the local heirloom farm stand? No problem -- make this cheesy and fresh calzone for the entire family!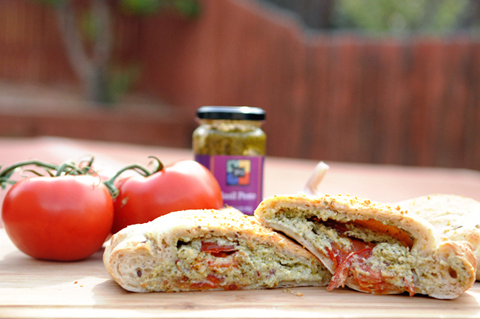 Summer tomato and ricotta calzone
Serves 4
Ingredients:
1 ball pizza dough (can be purchased at specialty food stores or a local pizzeria)
3 large beefsteak tomatoes
1 cup ricotta cheese
1-1/2 tablespoons prepared pesto
1 tablespoon olive oil
1 tablespoon Parmesan cheese
1 teaspoon salt
1 teaspoon pepper
Directions:
Preheat your oven to 325 degrees F.
Slice the tomatoes into 1/8-inch slices and place them on a baking sheet lined with parchment paper.
Sprinkle with the salt and pepper.
Roast them in the oven for 30-45 minutes until slightly browned.
Remove them from the oven and heat the oven to 450 degrees F.
In a small bowl, mix together the ricotta cheese and the prepared pesto.
Cut the dough into two pieces and roll out to about 1/4-inch thick, forming a large circle.
Layer the ricotta and tomato slices so that there are three layers of each, then fold the dough over the layers and pinch the edges shut.
Place it on a baking sheet lined with fresh parchment paper. Repeat with the other half of the dough and remaining tomatoes and ricotta mixture.
Brush with the olive oil and sprinkle it with the Parmesan cheese.
Bake at 450 for 15-18 minutes until the dough is golden brown.
Remove from the oven and let it sit for 5-10 minutes to allow the tomato juices to redistribute.
Enjoy your calzone hot or at room temperature.
More delicious tomato recipes
Spinach and cheese-stuffed tomatoes
Heirloom tomato recipes
Roasted red tomatoes

---
More From SheKnows Explorer
---
---