Pizzadilla recipe
Have one screaming kid who wants pizza and another who is begging for Mexican food? Instead of ordering both, why not get a little creative in the kitchen and find a way to blend the two? This pizzadilla is made with gooey mozzarella cheese, zesty marinara served inside a fresh flour tortilla. This kid-friendly dish is a perfect busy weeknight meal or after-school snack.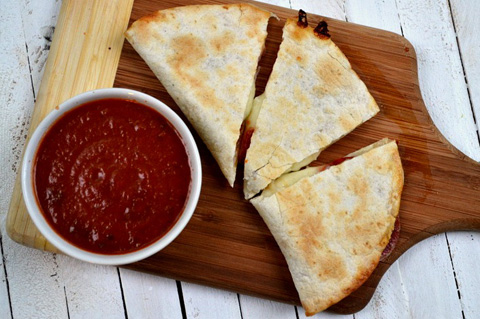 Pizzadilla recipe
Serves about 4
Next time you need a quick and easy dish, don't call the pizza man or head to Taco Bell. Instead, make this delicious pizzadilla and fill it with your favorite pizza toppings! Easy, delicious and perfect for even your pickiest of eaters!
Recipe adapted from My Recipes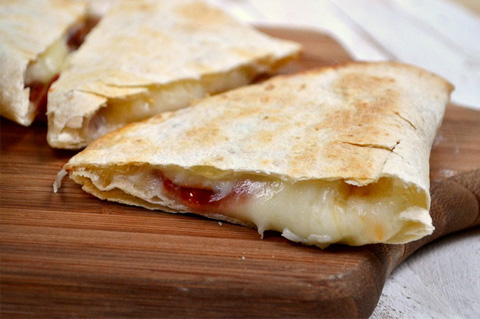 Ingredients: 
1 tablespoon extra virgin olive oil
4 whole wheat flour tortillas
1-1/2 cup freshly grated mozzarella cheese
1 ounce pepperoni
1 ounce crumbled sausage
1/4 cup Parmesan cheese
1 cup homemade marinara
Fresh basil leaves, chopped
Liberal dashes of salt and pepper
Directions: 
Preheat your oven to 400 degrees F. Using a pastry brush, brush the olive oil in a glass jelly roll pan.
Lie the tortillas flat and sprinkle about 1/4 cup of mozzarella cheese over each one. Add a few pepperonis and pieces of sausage. Add an additional 1/4 cup of mozzarella cheese and 1/2 tablespoon of Parmesan cheese. Sprinkle the tortillas with salt, pepper and crushed basil.
Bake the tortillas for about 4 minutes. Then, carefully fold each tortilla over in half. Bake for another 8 to 10 minutes, or until they are golden brown.
Serve with marinara dipping sauce and enjoy!
More kid-friendly meal recipes
3 Bite-size food recipes
A kid-friendly Cinco de Mayo festival
Healthier pigs in a blanket recipe