Sweet and sour chicken for a crowd
Looking to please the summer potluck crowd? Make a large batch of this simple sweet and sour chicken recipe.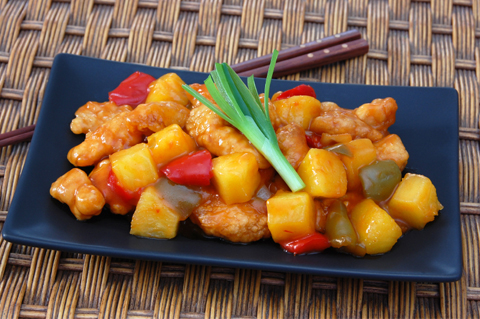 Sweet and sour chicken for a crowd
Serves 12
Ingredients:
2 pounds boneless, skinless chicken breasts, diced
Salt and freshly ground black pepper
3 eggs, lightly beaten in a large bowl
1-1/4 cups plus 2 tablespoons cornstarch, divided
3 tablespoons water
3 tablespoons vegetable oil
1 red bell pepper, seeded, diced
1 green bell pepper, seeded, diced
2 cups canned pineapple chunks, drained with 1 cup reserved juice
1/3 cup packed light brown sugar
1/3 cup rice vinegar
1/2 cup chicken broth
6 cups steamed white or brown rice, warm
Directions:
Season the chicken with salt and pepper.
Add the chicken to a large bowl with eggs and toss to coat well.
Place 1-1/4 cups of the cornstarch in a large shallow dish and add the chicken, tossing well to coat.
In a small bowl, whisk together the remaining 2 tablespoons of cornstarch and water.
Heat the oil in a large skillet over medium-high heat.
Add the chicken and cook, stirring occasionally, until the chicken is browned and just cooked through. Use a slotted spoon to transfer the chicken to a large plate and keep warm.
Add the peppers to the skillet and cook, stirring often, until softened.
Stir in the pineapple, pineapple juice, sugar, vinegar and chicken broth. Bring the sauce to a simmer. Stir in the cornstarch mixture and simmer until the sauce starts to thicken.
Add the chicken and stir to coat with the sauce. Cook for 5 minutes or until heated through.
Serve immediately over the rice.
More tasty chicken recipes
---
More From SheKnows Explorer
---
---