Simple fruit tarts the kids can make
If you have a box of puff pastry and fresh fruit on hand, get in the kitchen and teach your kids how to make these easy fruit tart recipes.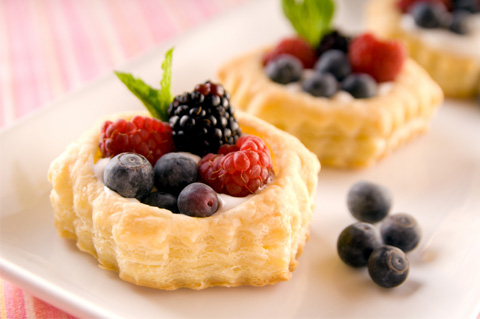 Three berry mini tarts
Yields 6
Ready-to-bake puff pastry shells and Greek yogurt make this three-ingredient dessert especially kid-friendly and easy to learn.
Ingredients:
1 (10 ounce) box Pepperidge Farm Puff Pastry Shells
1-1/2 cups fresh mixed berries
Directions:
Help your kids bake the puff pastry shells in the oven as directed on the package directions. Let them cool on a wire rack.
Let your kids fill the baked shells with the yogurt and top with the mixed berries.
Serve them immediately.
Kiwi pineapple tarts
Yields 24
This is a great recipe to teach your kids how to make pudding, use the rolling pin, and evenly portion ingredients. Let them make these fruit tarts for their next pool party or sleep over.
Ingredients:
1 (3.5 ounce) vanilla instant pudding and pie filling mix
1-3/4 cups milk
1 (17.3 ounce) package frozen puff pastry sheets, thawed
1 egg, beaten
3/4 cup diced peeled kiwi
3/4 cup diced fresh or canned (drained) pineapple
Directions:
Preheat the oven to 375 degrees F and lightly grease two (12-cup) muffin pans.
Let your kids whisk together the pudding mix and milk in a medium bowl according to the package directions. Cover with plastic wrap and refrigerate for at least 15 minutes.
Meanwhile, teach your kids how to unfold one of the puff pastry sheets on a lightly floured surface and roll the pastry sheet into a 9 x 12-inch rectangle.
Use a sharp knife to cut into 12 (3-inch) squares. Repeat with the remaining pastry sheet.
Have your kids press the pastry squares into the prepared muffin-pan cups and brush the pastry with the egg.
Bake the puff pastry for 10 minutes or until the pastries are golden brown. Transfer the pastry cups from the muffin pans to the wire racks to cool completely.
Let your kids spoon the pudding mixture evenly into each pastry cup then sprinkle with kiwi and pineapple. Serve immediately.
Mango coconut tart
Serves 12
Mango and shredded coconut turn a sheet of puff pastry into a sweet-tooth satisfying tropical treat. All your kids have to do is roll out the pastry, spread with cream cheese and top with fruit.
Ingredients:
1/2 (17.3 ounce) package frozen puff pastry sheets (1 sheet), thawed
1 (8 ounce) cream cheese, softened at room temperature
2 tablespoons grated orange zest
Juice of 1 orange
1 tablespoon granulated sugar
3 large ripe mangos, pitted, peeled, diced (about 4 cups)
1 cup shredded coconut
1/2 cup peach-mango preserves, warmed
Directions:
Heat the oven to 400 degrees F.
Have your kids unfold the pastry sheet on a lightly floured surface and roll the pastry sheet into a 10 x 14-inch rectangle. Transfer the pastry to a large baking sheet.
Let your kids brush the edge of the pastry with water and fold the edges over 1/2-inch on all sides, pressing firmly to form a border.
Have your kids prick the center of the pastry all over with a fork.
Bake the pastry sheet for 15 minutes or until the pastry is golden brown. Let the pastry cool on the baking sheet for about 10 minutes.
Meanwhile, let your kids combine the cream cheese, orange zest, orange juice and sugar in a food processor or blender. Blend until smooth.
Teach your kids how to use an offset spatula to spread the cream cheese mixture on the pastry inside the edges.
Let your kids scatter the mango and shredded coconut (evenly) all over the cream cheese mixture and drizzle with the warm preserves.
Slice and serve immediately.
More kid-friendly recipes
Healthy dinner recipes the kids can make
Picnic recipes the kids can make
No-bake desserts for the kids