3 Family-friendly hot dog recipes
Hot dogs are a summertime family favorite. Whether you're cooking out or in, everyone loves a frank customized to their tastes. That's partly why they're popular -- everyone can have it their way!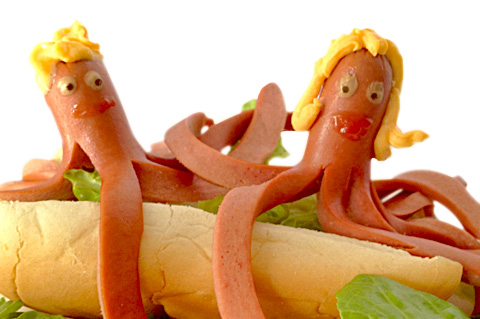 If the same boring hot dog has you longing for something a little more interesting, you're probably just in a creative slump. Try one of these family-friendly dogs everyone will love or use them as a jumping-off point for your own one-of-a-kind creation.
Octopus buddy hot dog recipe
Ingredients: 
1 package hot dog buns
1 package hot dogs, uncooked (turkey, beef or mixed)
1 can spray cheese (optional)
4 leaves lettuce, shredded
Butter or oil (optional)
Your favorite condiments, seeds and other add-ons
Directions:
Using a small, sharp knife, cut the hot dog in half lengthwise, leaving about 2 inches at the top uncut. Turn the dog 90 degrees and repeat. This will leave you with four legs, which you should then cut in half lengthwise to create eight legs.
Boil the hot dogs for a few minutes until the legs begin to curl slightly, then remove from the water and allow to cool and drain on a paper towel.
If desired, spread the interior of the hot dog buns with a small amount of oil or butter and grill face down over low heat until grill marks appear.
Place a pile of shredded lettuce inside the bun to serve as seaweed, then set two of your new little friends on top.
Allow the kids to use the spray cheese and other favorite condiments to give their octopus a little personality.
Serve with a large green salad on the side.
Note: Kids love the creative aspect of the octopus buddy. Adults will enjoy the interesting texture it creates!
Wormy hot dog spaghetti recipe
Ingredients:
4 hot dogs, uncooked and cut into 2-inch pieces
Up to half a box spaghetti or other long noodle, uncooked
1 cup prepared spaghetti or marinara sauce, heated
Directions:
Let the kids push the raw spaghetti noodles about 1 inch up into the hot dog pieces, leaving the rest of the spaghetti noodles exposed. They can do it however they'd like, so longs as the noodles stay (on one side, on both sides, close together or far apart).
Boil the dogs and raw spaghetti until the spaghetti is fully cooked.
Drain and serve immediately sauce on the side for fun (though slightly messy) dipping.
Bacon-wrapped franks with beans recipe
Ingredients:
1 package hot dogs
8 slices bacon
1 package hot dog buns, grilled face-down
1 cup chili beans
Assorted chili toppings (e.g., jalapeños, shredded cheese, diced onions, chow chow, etc.)
Assorted hot dog toppings (e.g., mustard, ketchup, etc.)
Directions:
Wrap the hot dogs with the raw bacon slices (use toothpicks to secure if necessary) and grill until the bacon is cooked through.
Spread a thin layer of chili beans on the hot dog bun and top with the bacon-wrapped dog.
Top with your favorite chili or hot dog toppings.
More hot dog recipes
Healthy lunch makeovers: Hot dogs
Easy recipes with hot dogs
Give your hot dogs gourmet flair