Strawberry shortcake cookie recipe
Strawberries are never in short supply once summer comes around. Think beyond the usual strawberry jam and strawberry pie and make some strawberry shortcake cookies! The strawberries are baked right in, which add an extra summery sweetness that you and the kids are sure to love!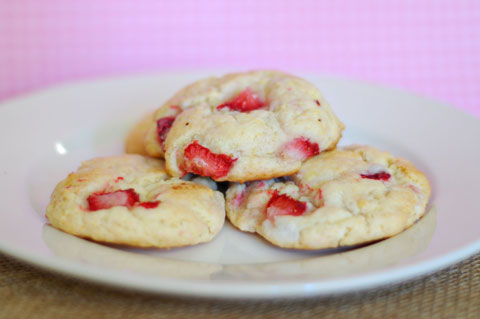 Strawberry shortcake cookie recipe
Makes 3 dozen cookies
Strawberry shortcake cookies are the perfect portable version of a favorite summer treat: strawberry shortcake. These cookies are the perfect thing to take along on a picnic or your next road trip. Make them and you can enjoy everything you love about strawberry shortcake without all the mess! These strawberry shortcake cookies are made using Bisquick to keep the ingredients simple and make the baking even easier!
Ingredients: 
4 cups Bisquick mix
1-1/2 cups powdered sugar
3/4 cup butter, softened
1 teaspoon vanilla extract
2 eggs
1 cup chopped fresh strawberries
Directions: 
Preheat the oven to 400 degrees F.
In a large bowl, combine Bisquick mix, powdered sugar, butter, vanilla extract and egg. Mix until a soft dough forms.
Gently stir in chopped strawberries.
Roll the dough into 1/2-inch balls and place them on a cookie sheet approximately 2 inches apart.
Bake for 8-10 minutes until cookies are golden brown.
Allow to cool on wire racks.
More cookie recipes to try
3 Peanut butter cookie recipes
3 Cookie bar recipes
Peanut butter and jelly cookies