Ice cream cookie sandwiches
Delicious homemade cookies, your favorite ice cream and toppings and dessert is ready!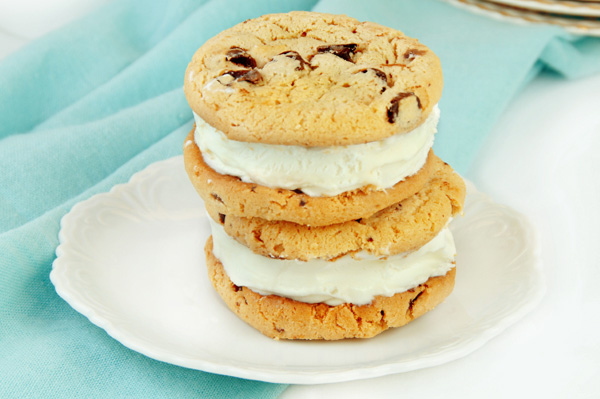 Ice cream cookie sandwiches
Serves 4
You can teach portion control with smaller cookies and still get your ice cream fix! Pick your favorite cookies, ice cream and set out your favorite toppings and let the little ones get involved, too! Kids of all ages enjoy these ice cream sandwich treats, and the sky is the limit with the toppings. Play with your ice cream flavors, and even make your own! Add a dash of cinnamon to vanilla ice cream or banana extract and chopped bananas. Feel free to stir in crumbled brownies into your softened chocolate ice cream to make this as much of an experience as it is a dessert!
Ingredients:
8 chocolate chip, sugar, M&M, oatmeal or peanut butter cookies
About 2 cups ice cream flavor of your choice
Miniature chocolate chips, crushed candy bars, sprinkles
Directions:
Place various toppings into a pie plate.
Allow ice cream to soften enough to scoop and place scoop on the inside of one cookie.
Sandwich another cookie and press to close.
Roll the edges of an ice cream cookie sandwich into the toppings, working quickly.
Wrap them in parchment paper and freeze to set, about 1 hour.
More ice cream dessert recipes to try
Ice cream sandwich recipes
Inspired ice cream dessert recipes
Ice cream desserts
---
More From SheKnows Explorer
---
---