Red, white & blue ice cream bars recipe
"Oh, say can you see..." your waistline expanding as you even think about the food you'll eat at that Independence Day barbecue? Don't despair. Instead of depriving yourself this Fourth of July, indulge yourself in a sweet low-cal treat to beat the heat. Warning: Make extras of this berry-licious ice cream bar -- they'll be the hit of the party!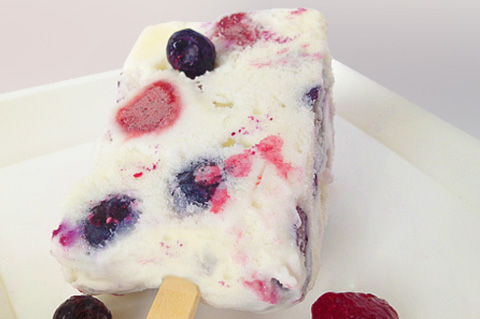 Red, white & blue ice cream bars recipe
Just because you're on a diet doesn't mean you can't enjoy a decadent frozen treat this Fourth of July (or any time). These low-cal frozen yogurt bars are easy to make and sweet enough to keep you away from the pie.
Ingredients:
1 (48 ounce) tub vanilla frozen yogurt
10-16 ounces mixed blue and red frozen berries (e.g., strawberries, blueberries, raspberries)
6-8 craft sticks (Popsicle sticks)
Directions:
Allow the frozen yogurt to soften on the counter (enough to make it workable), then empty the container into a large aluminum mixing bowl.
Fold in the frozen berries (no need to defrost them) until they're well mixed. Try to do this quickly to keep the yogurt from melting any more than necessary.
Line a rectangular 3-quart casserole dish with aluminum foil or parchment paper (preferably the kind that's parchment on one side and foil on the other).
Spread half the yogurt mixture into one of the short sides of the dish and the other half at the other (so there's space in the middle). There should be enough room between the two edges for the craft sticks.
If it starts to melt too much, put it back in the freezer for 5 to 10 minutes (but not until fully refrozen).
Insert the craft sticks into the sides (facing the middle) of the yogurt mixture about halfway up at intervals necessary to get the size bars you'd like. The craft sticks will be facing each other in the middle, so you may not be able to have fully uniform bars.
Freeze overnight in the coldest part of your freezer. Remember, frozen yogurt doesn't freeze as solidly as regular ice cream, so don't pull them out prematurely.
Remove the bars from the casserole dish carefully, using the parchment or aluminum foil and flip them upside-down on a cutting board or plate.
Using a very sharp knife, cut between the craft sticks to create the bars. Use lukewarm to hot water to help cut through them if necessary.
Quick tip: Don't worry if they're not perfectly uniform. Part of the charm is that they're clearly homemade. You should also serve them on plates if it's really hot outside. Frozen yogurt melts faster than ice cream.
More Fourth of July recipes
Fourth of July flag lasagna recipe
Fourth of July food for kids
Crafty kid-friendly Fourth of July treats
---
More From SheKnows Explorer
---
---