Funnel cake recipe
Funnel cake is a favorite food at fairs and carnivals. It's also very simple to make in your very own kitchen. Treat your kids to funnel cake topped with a dusting of powdered sugar.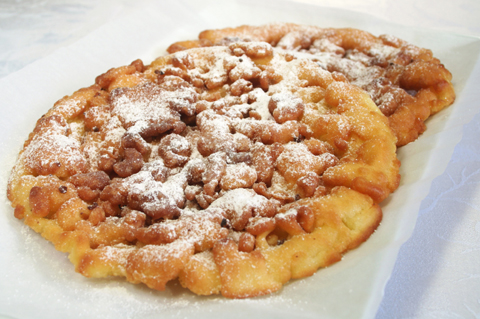 Funnel cake recipe
Ingredients:
3 large eggs
1/4 cup sugar
2 cups whole milk
3-2/3 cups flour
1/4 teaspoon salt
2 teaspoons baking powder
Vegetable oil for frying
Powdered sugar

Directions:
Beat the eggs and sugar in a large mixing bowl and then add the milk very slowly as you continue to beat.
Add the dry ingredients and beat until they are smooth.
Heat about 2 inches of oil in a large cast iron pot.
Pour the batter into a funnel, plugging the hole with your finger. If you don't have a funnel -- no need to worry. You can use a gallon-size plastic bag and just cut the tip off one of the corners.
When the oil is hot, hold your funnel over the pan and release the opening. Move the funnel around to create designs. You can make funnel cakes as big or as small as you like.
Brown the cake on both sides and remove to drain on some paper towels.
Top with some powdered sugar and serve them warm. Your kids may also like funnel cakes topped with some cinnamon sugar, brown sugar, honey or even cherry pie filling.
More about fair food
From funnel cakes to corn dogs: How does fair food fare?
5 Fair-inspired foods to serve at your next party
3 Delicious candy apple recipes