Strawberry banana crepes recipe
This summer, skip the hot and heavy breakfast food and start your day off with light and fresh crepes filled with bananas and strawberries.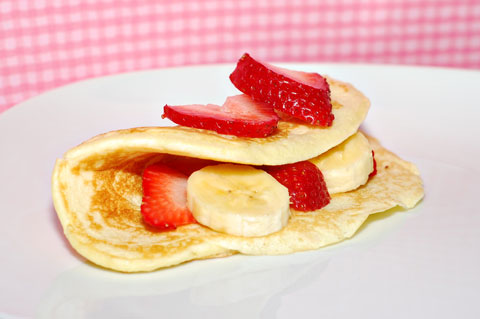 Strawberry banana crepes recipe
Serves 4
Homemade breakfast is delicious, but breakfast food can be so heavy on warm summer mornings. Having a breakfast that is light and easy doesn't have to mean you are stuck with cold cereal all summer long. Fresh crepes are light and fluffy -- just top them with fresh strawberries and bananas and you have a perfect summer breakfast!
Ingredients:
1 cup Bisquick pancake mix
3/4 cup whole milk
2 eggs
1 cup chopped fresh strawberries
2 bananas, sliced
Whipped cream (optional)
Directions:
Heat a 6-inch skillet over medium-high heat. Thoroughly grease the pan using butter or cooking spray.
In a large bowl, combine the Bisquick mix, whole milk and eggs.
Pour 2 tablespoons of the batter into the skillet, and rotate the skillet until the batter completely covers the bottom.
Cook the crepe until the bottom side is golden brown. Use a large spatula to flip the crepe and cook the other side until it is golden brown.
Repeat this process with the remaining batter.
Fill the crepes with sliced banana and strawberry, fold it and top with more fruit and whipped cream (if desired).
More breakfast ideas
How to make ebelskivers
Sweet and savory muffins
No-bake granola bars recipe