Rocket dog recipe
There's nothing more American than a ballpark hot dog. However, instead of sticking to the regular ol' dog and bun, why not spruce yours up to make it even more patriotic? These rocket dogs, made from frozen phyllo dough and your favorite hot dogs, are the perfect kid-friendly addition to your barbecue!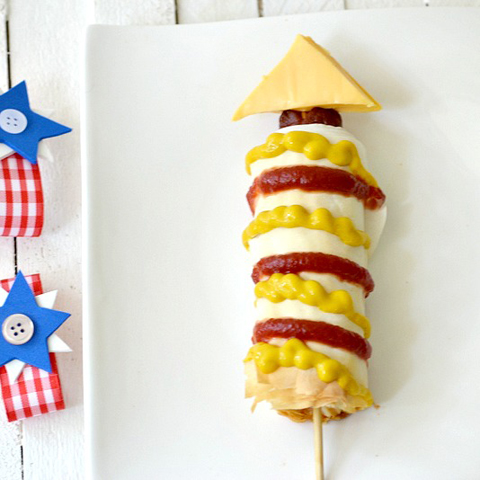 Rocket dog recipe
Yields 8 rocket dogs
Not only are these perfectly festive, they are incredibly easy. All you do is wrap the dogs in frozen phyllo dough and bake! A great last minute addition to your 4th of July celebrations.
Ingredients: 
1 roll frozen phyllo dough sheets
8 ballpark hot dogs
Ketchup
Mustard
5 American cheese slices
Skewers
Melted butter
Directions: 
Preheat your oven to 375 degrees F. Stick a skewer through each hot dog.
Cut the phyllo dough sheets so they wrap around the entire hot dog, leaving the top exposed. You want to wrap each hot dog in at least four sheets since they are thin.
Using a pastry brush, brush the ends of the sheets down with the melted butter so they stick.
Bake the hot dogs for about 30 minutes, or until the phyllo dough is golden brown.
Decorate with some mustard and ketchup. Stick a triangle of the American cheese (cut each slice in half diagonally and then fold over) on the top of the skewer and enjoy!
More 4th of July barbecue recipes
4th of July barbecue recipes
Fourth of July flag lasagna recipe
4th of July recipes