Red, white and blue dessert recipes
The 4th of July is one time where you can strongly encourage your kids to play with their food! These red, white and blue treats are as fun to make as they are to eat! Invite your kids to help you in the kitchen as you frost cupcakes in patriotic colors, dye sugar cookies and cut out star shapes in bright fondant or fruit!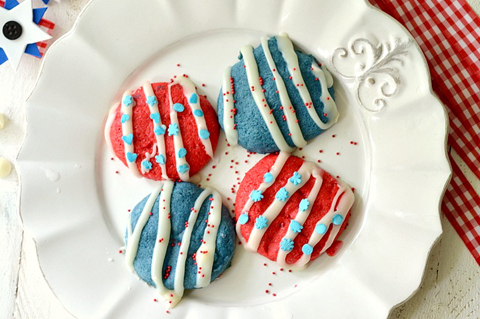 Ring in the 4th of July and enjoy these deliciously festive treats as you're watching this year's firework display. Being an American never tasted so good!
Patriotic sugar cookies
Yields 12 cookies
Ingredients:
5 tablespoons soft butter
3/4 cup white sugar
1 egg
1 teaspoon vanilla extract (you can also use almond)
1-2/3 cups flour
1 teaspoon baking powder
1/4 teaspoon salt
Red food dye
Blue food dye
1/2 cup white chocolate chips
1 to 2 tablespoons butter
Directions:
In a medium bowl, cream the butter and sugar. Add the egg and vanilla, mixing well. In another bowl, carefully whisk together the flour, baking powder and salt. Add the flour mixture to the creamed butter mixture, one cup at a time, mixing in between additions. *Dough will be crumbly but it'll harden up.
Separate the dough into two sections. Dye one section blue with the blue food dye and the other red with the red food dye.
Form a dough ball with the dough and wrap it tightly in some plastic wrap or wax paper. Place it in the refrigerator and chill it overnight.
Once the dough has chilled, preheat your oven to 350 degrees F. Line a cookie sheet in foil and liberally spray with cooking spray. Then, on a lightly floured surface, roll out the dough to about a 1/4-inch thickness. Lightly flour the edges of a circle cookie cutter (or star for fun) and cut out shapes. Re-roll the dough scraps and repeat until all of the dough is used.
Place the cookies at least 1-inch apart and bake for 8 to 12 minutes, or until cookies are golden brown. Place them on a wire cooling rack and cool completely.
While cookies cool, melt the chocolate chips by placing them in a small saucepan with the butter. Heat on low, stirring often, until mixture is melted. Then drizzle the white melted chocolate over the blue and red cookies! Sprinkle with alternating color sprinkles so each cookie is red, white and blue!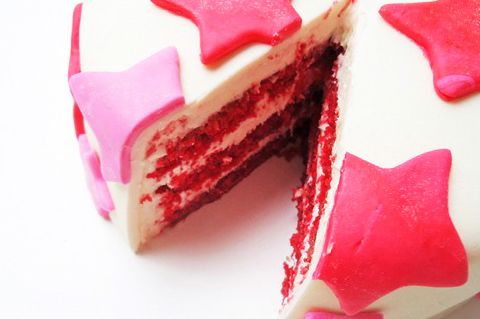 Red velvet star fondant cake
Serves 8
Recipe and photo provided by Lindsey of Gingerbread Bagels.
Ingredients:
For the cake:
2-1/2 cups cake flour
1-1/2 cups sugar
1 teaspoon baking soda
Dash of salt
1 teaspoon unsweetened cocoa powder
1 cup vegetable oil
1/4 cup unsweetened applesauce
1-1/4 cups buttermilk, at room temperature
2 large eggs, at room temperature
1 teaspoon vanilla extract
2 tablespoons red food coloring
Light cream cheese frosting for the inside
Buttercream frosting for the outside
For the fondant:
1/4 cup and 3 tablespoons light corn syrup
1/4 cup and 3 tablespoons shortening
1/4 teaspoon salt
1/2 teaspoon clear vanilla extract
14 ounces confectioners' sugar
Red and blue food dye
Directions:
Mix the cake flour, sugar, baking soda, kosher salt and unsweetened cocoa powder together.
In a large mixing bowl with a handheld mixer, mix together the oil, buttermilk, applesauce, eggs, vanilla extract and the red food coloring. Gradually add in the dry ingredients. Mix until combined.
Lightly grease two (9-inch) circular cake pans. Evenly divide the cake batter between the two cake pans.
Bake at 350 degrees F for 30 minutes or until a knife inserted into the cakes comes out clean.
Cool in the baking pans for 10 minutes on a cooling rack. Then remove the cakes from the cake pans and cool completely on the cooling rack.
Once the cakes are cool, level the cakes. Cut each cake into two layers, totaling four layers in all.
Fill the cake with the cream cheese frosting. Then frost the outside of the cake with the cream cheese frosting or the vanilla buttercream.
Then, to prepare the fondant, stir together the shortening and corn syrup in a medium bowl. Mix in the salt and vanilla flavoring, then gradually mix in the confectioners' sugar until it is a stiff dough. Knead by hand. If the dough is sticky, knead in more confectioners' sugar until it is smoother. Add the red and blue food dye to two sections until they are colored.
To use, roll out on a clean surface that has been dusted with confectioners' sugar until it is 1/8-inch thick or thinner if you can. Using a star cookie cutter, cut out star shapes. Carefully place them over the frosting.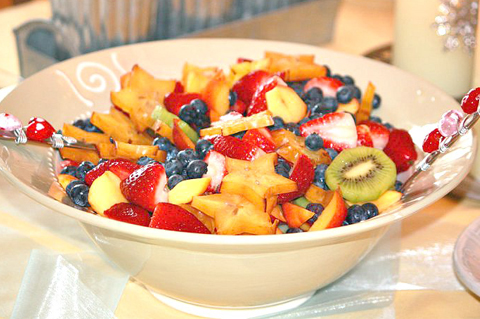 Festive fruit salad
Serves about 4
Ingredients:
5 kiwi
3 star fruits
5 mini nectarines
1 container of blueberries
1 container of strawberries
3 bananas
1 cantaloupe
Directions:
Slice bananas, kiwis, star fruit, nectarines, cantaloupe and strawberries. Stack into a large bowl. Mix blueberries in and serve!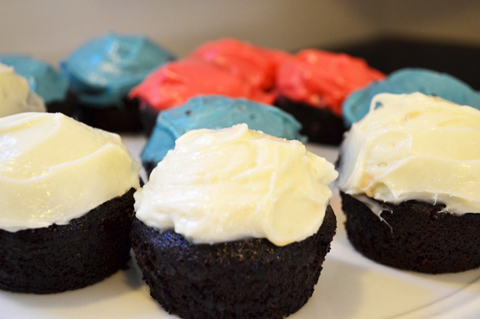 Red, white and blue frosted cupcakes
Yields about 14 cupcakes
Ingredients:
For the cupcakes:
4-1/2 cups sifted all-purpose flour
3 cups white sugar
1 cup unsweetened dark cocoa powder
1 cup vegetable oil
3 cups water
3 teaspoons baking soda
1/2 teaspoon salt
3 tablespoons vanilla extract
For the frosting:
8 ounces light cream cheese
2 to 3 cups powdered sugar
Red and blue food dye
Directions:
Preheat your oven to 350 degrees F. Grease a cupcake/muffin tin with some cooking spray.
In a large bowl, mix the flour, baking soda, cocoa powder and salt together. Add in the sugar and mix well.
Add in the water, oil and vanilla and mix until the batter is creamy.
Pour the batter into the greased cupcake pan, filling each about 3/4 full. Bake for 35-45 minutes or until they are fully cooked. Poke with a toothpick and if it comes out dry, they are done.
While the cupcakes cool, mix the frosting by beating the cream cheese and powdered sugar together until smooth. Separate the frosting into three bowls. Add the red food dye to one and mix well. Add the blue dye to the second and mix well.
Put on a wire cooling rack and let them cool completely before frosting. Once they have cooled, frost and enjoy!
More 4th of July recipes
Fourth of July flag lasagna
4th of July recipes
4th of July firecracker cakelette recipe
---
More From SheKnows Explorer
---
---