Ceviche tostadas with toasted coconut
Put the lime in the coconut milk and put it in the ceviche, too!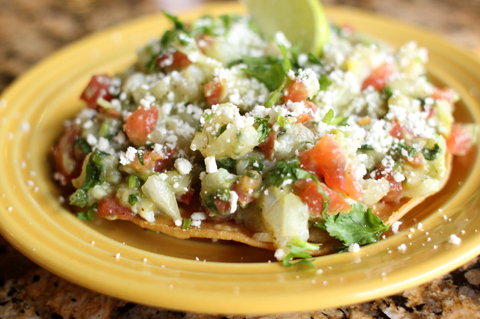 Ceviche tostadas with toasted coconut
Ceviche is a delicious dish to prepare, and is easy to make, at that. Using freshly squeezed lemon, orange and lime juice is what cooks the fish as it marinates in the refrigerator. The addition of the coconut milk just infuses the flavor of coconut throughout the fish, truly making this as much of an experience as it is a meal!
Ingredients:
1 pound fresh, good quality white fish (with no bones)
1 cup fresh lime juice
3/4 cup freshly squeezed lemon juice
1/2 cup freshly squeezed orange juice
1/2 cup coconut milk (use the rest to make coconut rice)
1 clove of garlic, minced
1 small red onion, finely minced
1 jalapeño, finely diced (or for more heat, you could use a serrano or habanero pepper, also finely diced)
Salt and pepper to taste (I like to use kosher salt)
1/2 cup cilantro, chopped
Red, green and yellow bell peppers, finely diced (if desired)
Extra lime slices for garnish
Avocado slices for garnish
Toasted coconut for garnish
Directions:
Cut the fish into bite-size pieces and place it in a large glass bowl with the lime, lemon, orange juices and coconut milk.
Add the garlic, red onion and pepper, tossing all to coat.
Cover with some clear wrap and refrigerate for 4 hours, stirring occasionally. (You may refrigerate overnight, although you might find the fish tastes more like citrus juice than fish. Your choice!)  
Remove from the refrigerator, uncover the fish and add the salt, pepper and cilantro, stirring gently to mix.
Top with the toasted coconut. You may serve this on a tostada, with chips, or in a beautiful martini glass with a lime wedge and avocado slices for garnish. Enjoy!
More ceviche recipes
Mexican ceviche with mahi mahi
Scallop ceviche
Peruvian ceviche