Grilled pineapple à la mode
Pineapple is the perfect summer fruit to grill and serve with cold refreshing ice cream. Make it all at home from scratch using this simple recipe!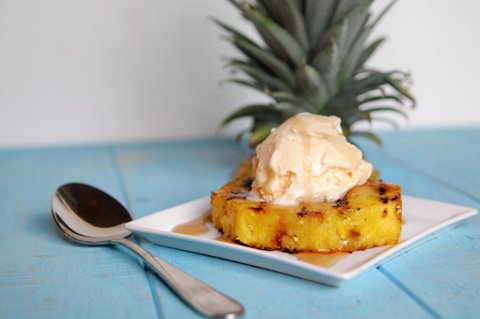 Grilled pineapple à la mode
Serves 4
Ingredients:
1 whole pineapple, peeled and cut into four rounds
1/2 cup granulated sugar
2 cups half and half
1 tablespoon vanilla extract
1/2 cup rock salt
Ice cubes
Directions:
For the ice cream combine the sugar, half and half and vanilla in a gallon-size sealable bag. Seal so that there is still some air in the bag.
Place the bag into another gallon-size bag filled with ice and rock salt. Seal the second gallon-size bag with a little air still in it.
Shake the bag for about 5-10 minutes until it forms ice cream. It is best to pour the ice cream into a freezer-safe container and let it freeze a bit longer to solidify well.
For the pineapple, spray a grill with nonstick spray and heat over medium heat until it reaches about 400 degrees F.
Grill the pineapple rounds for 3-5 minutes on each side until grill marks form.
Let it cool slightly before serving with a big scoop of ice cream on top.
More recipes with pineapple
Boozy pineapple upside down cake recipe
Baked pineapple
Nutty pineapple cookies