Superhero lunch recipes
Even superheroes need to eat, right?! Before your little character saves the planet, fill up his stomach with a nutritious, healthy lunch guaranteed to give his superhero powers a boost. Read on for lunch ideas even Superman can't pass up.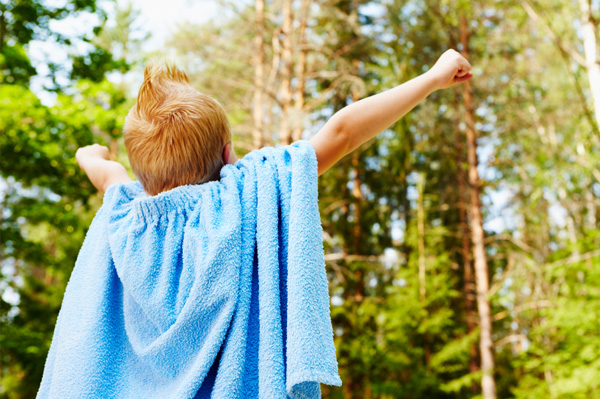 Superhero lunch essentials
When assembling your child's next lunch, check to make sure it includes these key components, recommended by BodyInstinct author and health and fitness consultant, Tari Rose.
Protein source
This can include peanut butter, sliced turkey, a boiled egg, cheese, Greek yogurt or tuna, for example.
Energy source
Rose suggests including whole grain crackers, whole grain bread, natural potato chips, whole grain corn chips or whole grain goldfish crackers.
Fruit/ veggie source
As for veggies, Rose recommends cut-up veggies with a dip such as hummus, salsa, Greek yogurt or ranch dressing. Fruit can also become a fun meal-time addition. "Try apples cut up and topped with cinnamon or Clementine oranges, already peeled for little ones," Rose said.
If you're feeling creative, Rose suggests using a melon baller to make small fruit balls of various melons, including watermelon and cantaloupe.
Small treat
Your little superheroes are saving the world -- and that deserves a treat! But don't throw nutrition out the window. "A treat shouldn't be one of those 100-calorie packs of cookies (that's way too much) or a pack of six cookies," explains Rose. "All a kid really needs is a nice little sweet taste of a treat." In other words, it's about quality, not quantity.
"For a sweet lunch treat, try one small cookie, six chocolate goldfish snacks, half of one 100-calorie treat bag, a mini cupcake or one small yogurt-covered pretzel," Rose says.
Superhero recipes
Now that you understand the key components of a superhero lunch, check out these simple recipes to fuel up your little adventurer.
Ants on a log -- This lunchtime snack includes several superhero lunch essentials, thanks to these key ingredients: celery, raisins and peanut butter. Simply fill the celery stalk with peanut butter, add raisins on top, then cut the stalk in half and serve!
Turkey rolls -- Your superhero won't mind taking a break from saving the world to help prepare this kid-friendly recipe. The ingredients are simple: one tortilla, salsa, turkey, lettuce and tomato. Start by spreading the salsa on the tortilla, add the remaining ingredients, roll, cut and serve.
Banana strawberry smoothie -- This is the perfect sweet, yet healthy, solution for an on-the-go superhero. Simply assemble the ingredients (banana, strawberries, milk and ice) and puree until smooth.
Easy-peasy veggie pizza -- This lunchtime pizza is so delicious that you won't even have to hide the veggies! The best part of this recipe? You can alter it based on your child's preferences. This recipe calls for mushrooms, onions and bell peppers, but you can experiment with various toppings until your superhero finds just the right combo.
EXPERT TIP: If your child is going to have a treat, lunch time is the best time to have it since they'll quickly burn it off. – Tari Rose
More lunchtime tips
10 Portable snacks for your young all-star
Lunches your kids can make on their own
How to keep your kids refreshed on the field
---
More From SheKnows Explorer
---
---