Cool afternoon treats on a hot day
During the long, hot, lazy days of summer, you simply can't beat a refreshing, ice-cold treat. Check out these oh-so-cool ideas for the perfect afternoon pick-me-up.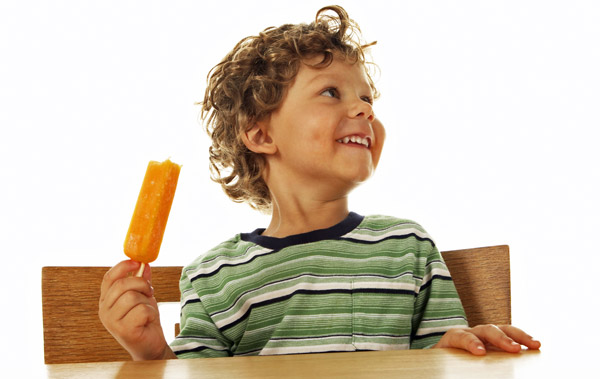 Healthy treats for a hot day
Yes, it is possible to savor an ice-cold treat without the guilt. Tari Rose, BodyInstinct author and health and fitness consultant, shares her favorite healthy treats for the blazing days of summer:
Juice bars
Break out your freezer pop molds and fill them with 100-percent juice. But, as Rose points out, limit kids to no more than one a day.
Yogurt tubes
Turn a simple kid's snack into a frozen treat. Rose recommends putting yogurt tubes in the freezer for the perfect afternoon refreshment.
Frozen grapes
Grapes are always a healthy snack, but when they're frozen, they instantly become an ice-cold treat. Yum!
Seedless watermelon
According to Rose, this afternoon treat is always a hit in her household. "Slice seedless watermelon just out of the fridge into individual triangle-size pieces and put them in a stainless steel bowl with plenty of ice," Rose says. "That means cool and yummy watermelon for your picnic or pool day!"
Water, with a twist
When warm weather hits, Rose recommends filling a pitcher of water and floating, not squeezing, pieces of fruit just before bedtime. "The next morning you'll have a great infused, refreshing water to drink all day!" Rose says.
Get your kids involved by asking them to pick out their favorite fruits to create their own custom water concoction.
Hot day splurges
Everyone deserves to splurge every now and then! Here are some sinfully delicious splurges to have on standby for the next heat wave.
Ice cream soda/ float
Nothing says summer like a mouth-watering ice cream soda or float. Bring back the days of soda fountains and small towns with this ice cream and soda mixture. The possibilities are endless! Opt for a root beer float, chocolate ice cream float or an orange creamsicle float.
Cocktail popsicle
For an adult twist on the traditional popsicle, add your favorite alcohol, like these bourbon peaches and cream popsicles, or these blackberry prosecco popsicles. These sophisticated and tasty adult treats are the perfect nightcap for your summer cocktail party.
Homemade ice cream sandwich
If you're searching for the perfect cookie for DIY ice cream sandwiches, look no further than this Poor Man's Cookie recipe from Taste of Home. According to blogger Brandy of Gluesticks, these delectable oatmeal cookies are the perfect "sandwich" cookie. On her blog, she writes, "They stack well and hold up perfectly to the weight and pressure of the ice cream in the center." Sounds like a refreshing win!
More summer tips
How to keep your kids refreshed on the field
Berry dessert recipes for summer
Ice cream cone cupcakes recipe