Lunches your kids can make on their own
Summertime means extra mouths to feed at lunchtime. But that doesn't necessarily mean extra work for Mom or Dad. Instead, put those little fingers to work with these simple, nutritious and fun lunch ideas kids can make on their own.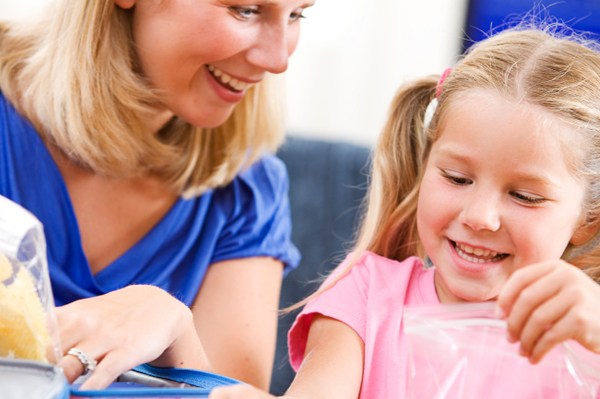 Make it nutritious
When it comes to lunchtime, it's easy to slip into bad habits, especially during the summer when the kids are out of school. Though that fast-food drive-thru may be tempting, plan ahead and stock your pantry with some of these nutritious favorites instead.
First, quench their thirst with the new Capri Sun Super V pouch. Each 6-ounce pouch holds one combined serving of fruits and veggies, made up of 25 percent vegetable juice and 75 percent fruit juice. These kid-friendly drinks also provide 10 percent of the recommended daily value of fiber. Talk about an easy way to convince your kids to get their fruits and veggies!
Next, BodyInstinct author and health and fitness consultant, Tari Rose, recommends adding the following nutritious elements to your child's DIY lunch plan:
Whole grain bread with peanut butter and jelly (or you can replace the jelly with sliced fruit, like bananas)
Roll up sliced turkey and cheese and stack them on whole grain crackers for a lunch that's not only good for your kids, but also easy to make.
Make it easy
When planning the menu for your kid's DIY lunch, simplicity is key. Make it easy on yourself and on your kids by prepping as much as you can ahead of time. For example, Maddie Hamilton of Mommy's Everyday Remedies, suggests this quick and easy carrot prep:
"I don't like the baby carrots, so I buy a bag of organic carrots about every other week for my 4-year-old's lunch. When you get home from the store, you can peel, cut and store them in the fridge in a jar filled with water. Then, they're ready for your kiddos' lunch in no time."
Make it fun
Have a picky eater? Getting your child involved in the prep stage of meal-making may actually help curb that problem. When a child is part of the process, they'll take pride in their work and make an effort to eat their masterpiece when it's done.
Introduce kids to this fun, yet simple, recipe for vegan roll-ups from Mommy's ER. "This is an easy and fun one for kids to make," Hamilton said. Parents should, however, toast the tortillas first before handing over the rest of the lunch prep to the kids.
Another way to make lunch more fun for kids is to make it more colorful. Hamilton shares how: "We roll up some lunch meat (such as gluten-free Boar's Head EverRoast Oven Roasted Chicken Breast) along with kid-sized handfuls of carrot sticks, walnuts, a fruit and maybe some Pirate's Booty. This makes for an exciting, colorful lunch."
More lunchtime tips
10 Portable snacks for your young all-star
Superhero lunch recipes
Cool afternoon treats on a hot day