10 Portable snacks for your all-star
As a mom, you're constantly on the go, which doesn't leave much time for snack planning. But if you're chauffeuring little athletes to and from practice every afternoon, healthy, portable snacks are essential. Check out these 10 snack ideas for your young all-star.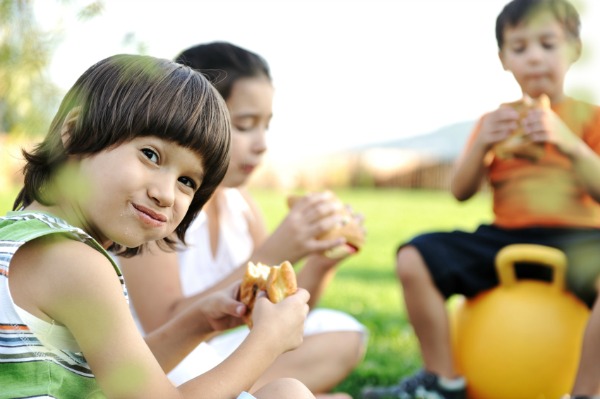 When you're preparing your grocery list, keep this advice in mind: "Before any athletic event, think protein, complex carbs and vitamins," says Maddie Hamilton of Mommy's Everyday Remedies. "Also, make sure there's plenty of time to digest the snack beforehand."
Another key to all-star greatness? Hydration. "Hydrate slow and steady before the athletic event," Hamilton said. "Coconut water is full of electrolytes and is a more natural approach than some sports drinks."
Bananas
According to Hamilton, the ideal portable snack for your child athlete is a banana. "Buy them on the green side, as they will ripen in transit to the event if they're bagged together," she recommends. "Bananas are full of potassium, which is good for the muscles and helps prevent cramping."
For an additional protein boost, add some nut butter of choice to banana slices.
Peanut butter crackers
Tari Rose, health and fitness consultant and BodyInstinct author, recommends Lance Sandwich Crackers: Peanut Butter on Whole Grain, boasting real peanut butter and 9 grams of whole grain per serving.
For peanut butter lovers, Rose also recommends Jif To Go Natural Creamy Peanut Butter spread. "The containers travel well and are the perfect single-serving size," says Rose. She also recommends packing a whole grain cracker for dipping, such as Wheat Thins Whole Grain Stix.
Trail mix
Treat your little athletes to a yummy DIY trail mix recipe, like this one from Rose. At the beginning of the week, create small baggies or containers filled with trail mix so you can easily grab-and-go.
1/4 cup nuts
1/4 cup raisins
1/2 cup plain Cheerios
1/2 cup flavored Cheerios
Yogurt tubes
Yogurt tubes are oh-so-yummy, easily portable and nutritious. Save money and resources by picking up some reusable yogurt tubes, like these on Etsy. Just fill, fold over and secure with a twist tie for an on-the-go snack solution. Freeze them ahead of time for a special treat that's guaranteed to be a homerun!
Banana muffins
At first glance, muffins may not appear to be the ideal snack for your young all-star. But, according to Rose, her BodyInstinct Banana Muffins certainly are. "My all-time favorite snack -- and the one I always give to my kids (and my clients give their kids) when playing sports are the BodyInstinct Banana Muffins," Rose said. "I like slow-burning snacks that will give kids sustained energy instead of a quick boost followed by a quick drop."
Fruit smoothies
Smoothies are the perfect snack solution for your on-the-go athlete. Not only are they a yummy way to sneak in fruits and veggies, but you can also add in protein powder or other supplements as needed. This 1-cup blender makes it even easier for your all-star to bring a smoothie on the road.
Soft pretzels and hummus
Not only is this snack portable, but it's also healthy. According to the blog Super Healthy Kids, hummus is full of protein, fiber and plenty of helpful nutrients. Check out this post for a DIY hummus and pretzel recipe.
String cheese
Cheese is a great source of protein and calcium. Grab a 6-ounce stick of mozzarella or Colby cheese (like these from Horizon Organic) and play ball!
Greek yogurt
Greek yogurt definitely packs a protein punch, boasting almost double the amount of protein as traditional yogurt. According to their website, Chobani Champions Greek yogurt has 20 percent of your child's daily Vitamin D needs and 10 percent of the recommended daily value for calcium.
Ants on a log
Bring along these tasty log-style treats for the perfect afternoon snack before practice. All it takes is three key ingredients: celery, raisins and peanut butter. Fill the celery stalk with peanut butter, add raisins on top, cut the stalk in half and serve to your little athlete.
More snacking tips
Cool afternoon treats on a hot day
Healthy snacks my kids love
Healthy road trip snacks