Green beans in a blanket recipe
If you're like most parents in America, getting your kids to eat their vegetables isn't an easy task. Before you load up those green beans in Velveeta or serve your kids mashed potatoes again (which still doesn't count as a healthy vegetable alternative), try these deliciously healthy beans in a blanket! Made like your kids' favorite snack -- pigs in a blanket -- just with green beans!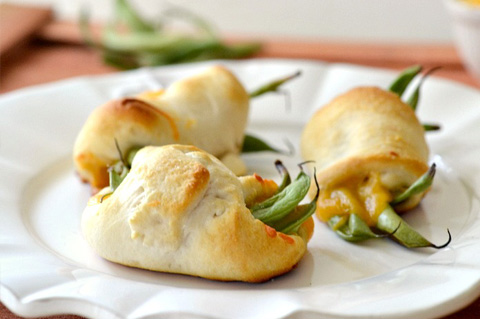 Green bean blankets
Yields about 8
These cheesy snacks are made with flaky biscuit dough, part-skim cheese and fresh green beans, so they are healthy but still kid-friendly. Not only are they great for kids, they are perfect for picky husbands too. Who said getting your kids to eat vegetables had to be a battle? Serve up these cute little snacks and watch your kids (and hubbies) gobble them up.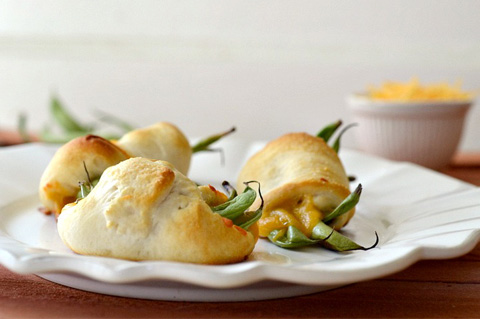 Ingredients: 
24 fresh green beans (not frozen), washed
1 package frozen biscuit dough
1/3 - 1/2 cup part-skim shredded cheddar cheese
Liberal dashes of salt and pepper
2 tablespoons olive oil
Directions: 
Preheat your oven to 425 degrees F. Grease a baking sheet with nonstick cooking spray.
Unwrap the biscuit dough. Flatten and roll out each biscuit until about 1/3-inch thick.
Sprinkle about 2 teaspoons of cheese over each piece of dough. Place three green beans over the cheese, and repeat until all beans have been used.
Sprinkle green beans with salt and pepper. Carefully wrap the dough around the beans and seal with your fingers. Drizzle olive oil over each bundle.
Bake for about 15 - 20 minutes, or until biscuits are golden brown, cheese has melted and beans are soft. Serve warm and enjoy!
More healthy kid-friendly dishes
5 Healthy (but yummy!) family meals
Easy and healthy kid-friendly bento boxes
5 Fabulous kid-friendly smoothie recipes