Bleu cheese and bacon-stuffed turkey burgers recipe
Summer means outdoor fun with family and friends, especially on Independence Day. If you're like most Americans, you'll host or attend a dozen cookouts this summer. Get the kids in on the fun with these savory turkey burgers that give them a really good excuse to get their hands messy.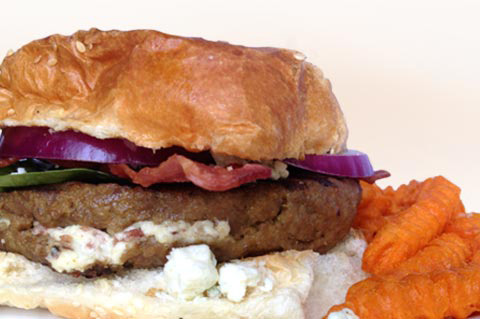 Bleu cheese and bacon-stuffed turkey burgers recipe
Yields 2 - 4
While traditional American hamburgers are delish, there's no reason you can't do things a little differently this year. Try these bleu cheese bacon-stuffed burgers -- on the grill or on the stove -- and let your kiddos join in the culinary fun. Just make sure you have some plastic gloves on hand to keep their little hands germ-free.
Ingredients:
1 pound ground turkey
2/3 cup panko breadcrumbs
1 egg, lightly beaten
1 tablespoon Worcestershire sauce
Fresh-ground black pepper
3/4 teaspoon garlic powder
4 slices turkey bacon, cooked crisp and crumbled
5 - 6 tablespoons Gorgonzola cheese crumbles
2 tablespoons Neufchâtel cheese, softened
1-1/2 to 2 tablespoons light mayonnaise
2 - 4 hamburger buns
4 leaves romaine lettuce
8 rings red onion
Salt and pepper to taste
Directions:
In a small bowl, use a fork to mix 3 or 4 tablespoons of the Gorgonzola cheese with the Neufchâtel, half of the bacon crumbles and three grinds of the pepper. Set aside.
In a medium bowl, use your hands to gently combine the ground turkey, breadcrumbs, beaten egg, Worcestershire sauce, 12 to 15 grinds of pepper, and a 1/2 teaspoon of the garlic powder until just mixed (don't overwork it). Feel free to add some extra breadcrumbs if you prefer a stiffer burger. (Add salt if desired.)
Separate the ground turkey mixture into four (if you want two 1/2-pound burgers) to eight (if you want four 1/4-pound burgers) balls of equal size and shape into patties, packing them together well.
Spread the cheese mixture onto the center half of the patties, leaving room on the edges.
Place the remaining patties on top of those with the cheese mixture and press the edges together to make a single patty. Press a shallow dent in the top of each patty to prevent the resulting burger from puffing or bulging when cooked.
Cook on the grill, on the stovetop or in the oven. Cook times will vary depending on the size of your burgers and your cooking method, but should come to an internal temperature (use a meat thermometer) of at least 165 degrees F with no pink in the middle.
While the burgers are cooking, mix the remaining 1/4 teaspoon of garlic powder with the mayonnaise and grill or toast the buns if desired.
Spread the mayonnaise on the bottom buns, then place the cooked turkey burgers on top of those. Top with the lettuce, red onions, remaining Gorgonzola and bacon, and the top of the bun.
Serve with sweet potato fries or a side salad.
More ground turkey recipes
Savory ground turkey and rice recipe
Ground turkey slopping joes recipe
Ground turkey stir-fry recipe