3 Tasty sandwich recipes
Sometimes, you want to have a sandwich that's more than bologna and cheese on white. But it can be hard when you're cooking for the whole brood. The reality is, you can have a delicious (and sometimes even healthy) sandwich your kids and hubby will eat, too.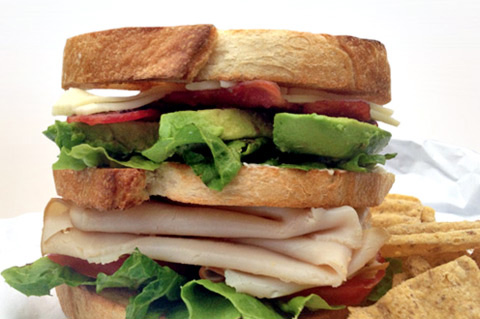 Are you and your husband starting to feel like you're reverting to your own childhood in an effort to feed your kids something they won't complain about without adding "fix lunch for myself" to your already long to-do list? Check out these three sandwich recipes, which can all be easily converted into kid-friendly favorites!
Turkey & Havarti stacker recipe
Yields 1
Ingredients:
2 thick-cut slices artisan bread, toasted
1 thin-cut slice artisan bread, toasted
3-4 slices deli turkey, thinly sliced
2 pieces turkey bacon, cooked crisp
2 leaves romaine lettuce
2 slices tomato
2 slices Havarti cheese
2-3 slices of avocado
3-4 teaspoons reduced-fat or olive oil mayonnaise
Directions:
Spread the mayonnaise lightly on one side of each slice of toast.
Layer one leaf of lettuce, tomato and turkey on the mayonnaise side (and thicker-cut piece) of toast.
Top with the thinly sliced piece of toast, mayonnaise-side down. Spread another thin layer of mayonnaise on top of the thinner slice.
Stack the other leaf of lettuce, avocado, bacon and Havarti, then top with the other slice of toast.
Wrap tightly with parchment paper and serve with whole grain chips.
To make this sandwich more kid-friendly, mash the avocados and use it as a spread in place of the mayonnaise on once slice of bread and put all the ingredients on two pieces of wheat bread.
Reuben wrap recipe
Yields 1
Ingredients:
1 large tortilla (whole grain rye, if available)
4 slices corned beef, deli sliced
4 slices Swiss cheese
1/2 cup sauerkraut, drained
1/2 cup Thousand Island or Russian dressing
Directions:
Spread 1/8 cup of the dressing over the tortilla.
Top with corned beef, cheese and sauerkraut.
Fold the bottom end of the tortilla up and roll over from right to left, leaving only the top open.
Serve with the remaining dressing and a garden salad.
Note: If your kiddos won't eat corned beef or sauerkraut, leave those ingredients off and sub in whatever deli meat you have in the house (e.g., subbing the sauerkraut for shredded lettuce). But don't be afraid to let them try the real thing at least once -- you'd be surprised how many kids will eat it if you call it a Reuben and don't tell them what's in it. Let's face it, corned beef and sauerkraut don't really sound as appetizing as they are!
Cobb salad sandwich recipe
Yields 1
Ingredients:
1 onion roll, split
2-3 slices avocado, mashed
1/2 green onion, chopped
1/4 teaspoon lime juice
Salt and pepper to taste
1 slice cheddar cheese
1 leaf romaine lettuce
1 leaf iceberg lettuce
Handful watercress (optional)
3-4 slices deli turkey, thinly sliced
2 slices turkey bacon, cooked crisp
1 hard-boiled egg, sliced
2 ounces Gorgonzola cheese
2 slices tomato
Directions:
Mix the avocado, lime juice and diced onions in a small bowl. Salt and pepper to taste.
Spread the avocado mixture on one slice of bread.
Layer with the cheddar, lettuce (and watercress if desired), turkey, bacon, egg, Gorgonzola and tomato, then top with the other slice of bread.
Slice in half and serve with tomato soup or macaroni salad.
The kids will probably eat this one without too much pushing, but if you're sending it to school, mix it as a salad before packing it so they can't pull off those healthier toppings!
More sandwich recipes
Zesty prime rib sandwich recipe
Best sandwiches for whole-wheat bread
5-Ingredient sandwich recipes
---
More From SheKnows Explorer
---
---