Healthy dinner recipes the kids can make
Instead of just telling your kids to eat healthier, get them in the kitchen and teach them how to cook healthy meals. These three kid-friendly recipes are healthy, delicious and easy to make.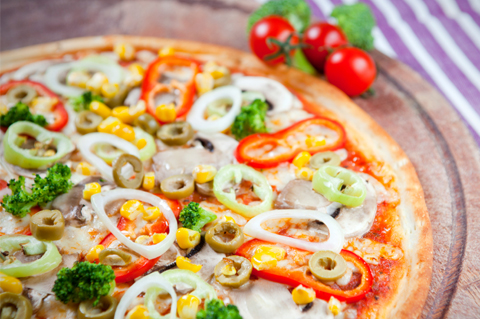 Vegetarian pizza
Serves 8
Pizza is a kid-friendly favorite with near endless variations, giving your little sous chefs the opportunity to create new pizzas for the family every week. Kids who don't normally like vegetables often gobble them right up when they are presented on a pizza.
Ingredients:
1 pound whole wheat pizza dough
1/2 cup pizza sauce
1 cup fresh or frozen (thawed) corn kernels
1/2 cup pitted green and black olives, sliced
2 tomatoes, cored, seeded, chopped
1/2 small green bell pepper, seeded, chopped
1/2 cup chopped onion
2 tablespoons finely chopped fresh parsley
1-1/2 cups shredded mozzarella cheese
Directions:
Let your kids place a pizza stone in the oven and teach them how to work the oven controls to preheat the oven to 400 degrees F.
Lightly flour the counter and show your children how to roll pizza dough into a 14-inch circle with a rolling pin, giving them each a turn.
Dust a pizza peel with flour and teach your kids how to slide the pizza peel under the pizza dough and transfer it to the pizza stone.
Bake for 10 minutes to crisp the crust. Use the pizza peel to remove pizza from the oven. Let the pizza crust cool slightly.
Let your kids top the pizza crust with some sauce, corn, olives, tomatoes, bell pepper, onion, parsley and cheese.
Slide the pizza back onto the pizza stone and cook for 10 minutes or until the cheese is bubbly and lightly browned.
Transfer the pizza to a cutting board and let it sit for a few minutes.
Teach your kids how to use the pizza cutter to slice the pizza into eight pieces. Serve hot.
Roasted pepper and chicken couscous salad
Serves 6
Whole wheat couscous, finely chopped roasted peppers, sliced almonds, cooked chicken breast and fresh herbs make this quick and easy, kid-friendly recipe a healthy choice for dinner. Couscous cooks up in minutes and can be used as a base for any number of low-calorie, antioxidant-rich vegetables. Add nuts, seeds, beans or other lean proteins to make the meal even more filling.
Ingredients:
2 cups water
1-1/2 cups whole wheat couscous
1/2 cup roasted red bell peppers from a jar, drained, finely chopped
2 green onions, finely sliced (green and white parts)
1/4 cup finely chopped fresh parsley
2 tablespoons grated lemon zest
Juice of half of a lemon
3 to 4 tablespoons extra-virgin olive oil
2 cups diced cooked skinless chicken breast
1/2 cup sliced almonds
1/4 cup crumbled feta cheese
Salt and freshly ground black pepper to taste
Directions:
In a medium pan over high heat, bring the water to a boil. Stir in the couscous, place a lid on the pan and remove it from the heat. Set it aside for 5 to 6 minutes. Fluff with a fork and keep it warm.
Meanwhile, in a large bowl, have your kids combine the peppers, onions, parsley, lemon zest, lemon juice, oil, chicken breast, almonds and the feta.
Let them add the couscous and toss it to combine. Serve it hot.
Veggie sushi wraps
Serves 6 to 8
As an adult who loves food, I am not keen on raw fish so I don't expect young children to especially dig it either. However, making sushi -- without raw fish -- is a super fun hands-on kitchen skill that every kid I know can't wait to learn. You will need a bamboo mat for yourself and each of your kids to help roll the sushi.
Ingredients:
2 cups sushi rice
2-1/2 cups water
3 tablespoons rice wine vinegar
1 tablespoon sugar
1/2 teaspoon salt
1 package cooked or roasted nori sheets
2 carrots, cut into slivers
1/2 cucumber, halved lengthwise, seeded, cut into thin strips
1 ripe but firm avocado, halved, pitted, thinly sliced
Directions:
Have your kids measure out 2 cups of the sushi rice and place it in a large bowl. Fill the bowl with the water, stir it, drain it, and repeat two to three times or until the water runs clear.
Transfer the rice and water to a rice cooker and teach your kids to set the controls on the rice cooker to cook the rice according to the manufacturer's directions.
Have one of your children whisk together the vinegar, sugar and salt in a small bowl. Heat in the microwave for 20 seconds or until the sugar is dissolved.
Transfer the rice to a large bowl and pour the vinegar mixture into the rice and use a wooden spoon to mix. Let it cool.
Roll the bamboo mats out flat on the counter. Set a nori sheet (shiny-side down) on each bamboo mat.
Have your kids top each sheet with a thin layer of rice on the nori sheet leaving a 3/4-inch border at the top and then moisten the border of nori with water using their fingers.
Let the kids place a few carrot slivers, cucumber strips, and avocado slices in a row crosswise at the bottom of the rice.
Teach them to lift the end of the bamboo mat closest to them up to lift the nori and fold over, continuing to lift the mat to roll the nori until all of the rice is sealed in. Let it sit, seal-side down for a few minutes.
Use a sharp knife to cut each sushi roll crosswise into six pieces and serve.
More kid-friendly recipes
Picnic recipes the kids can make
Healthy breakfast recipes for kids
Kid-friendly no-bake dessert recipes