Lunches under $3 a day
It's so much easier to make a nutritious meal when you have supplies on hand. Reaching for the cupboard -- instead of the phone to call for delivery, or heading off to the drive through -- is not only healthier but much more cost-effective.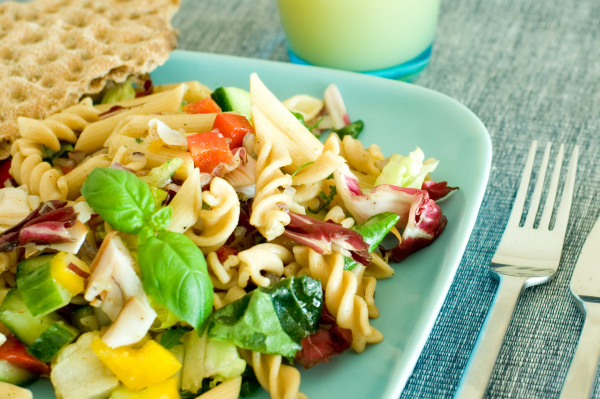 Pad your pantry and fill your freezer
One trick to making lunches for under $3 a day is to first plan ahead. Buy items you can stock in your pantry when they're on sale. Think canned tuna, beans, peanut butter, rice, pastas and dried beans. Don't forget about the freezer. Bags of frozen vegetables and ground beef can come in handy in creating a nutritious, inexpensive lunch.
Cut coupons and go generic
It may be a bit tedious to cut coupons, but it can really pay off. Watch the papers or scan your grocery store's website for coupons for the week (or month) ahead. Once you get to the grocery, don't forget to shop wisely by buying generic items. You'll save money without giving up quality.
Calculate prices per serving
While prices may vary based on where you live and individual grocery stores, the following information can give you an idea of how far your food dollars go. You can easily do the math on your own to price servings: divide the price of the item by the number of servings and you have your cost per serving.
Brown rice
If a 1-pound bag of brown rice sells for about $1.75 and makes about 10 side servings, that's about 18 cents a serving.
Whole-wheat pasta
If a 16-ounce box (or bag) of dried pasta sells for about $1.69 and makes about 7 servings, that's about 24 cents a serving.
Frozen vegetables
If a 12- to 24-ounce bag of frozen veggies sells for $1.75 and makes about 6 cups, depending on the vegetable and the size of the bag, that's about 29 cents per serving.
Canned tuna
If a 6-ounce can of tuna sells for $1.39 and makes has about 2 servings, that's about 70 cents per serving.
Tasty ideas for lunches on a budget
It's easy to make a tasty lunch that doesn't cost a lot. Once you get the hang of things, the sky is the limit! Keep the following basics in mind as you build your lunch menus:
Pasta
Cold pasta salad with veggies
Pasta with grilled shrimp and tomato sauce
Canned tuna
Tuna salad sandwiches
Tuna noodle casserole
Eggs
Deviled eggs
Egg drop soup
Potatoes
Twice baked potatoes topped with veggies and cheese
Potato and bean quesadillas
Lean ground beef
Spaghetti with meatballs
Grilled sliders
Beans
Black bean chili
Bean and cheese enchiladas
Frozen and fresh veggies
Spinach and cheese quesadillas
Cheesy cauliflower gratin
Chicken
Grilled chicken and with pasta
Baked chicken Parmesan
Lunches for under $3 a day are possible! With a little planning your lunches can be nutritious, delicious and inexpensive.
Lunch recipes to try
Tuna melt calzone
Baked whole-wheat pasta with broccoli and roasted tomatoes
Easy Mexican chicken and beans