Turkey apple carrot burgers
Turkey burgers are stepped up and kept moist with the addition of grated apples and carrots!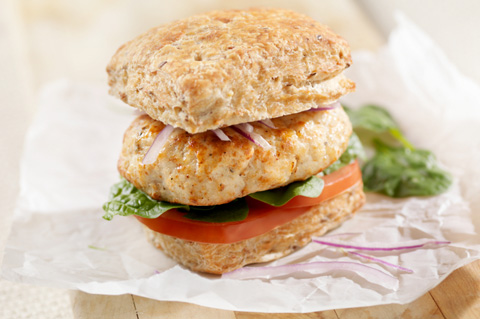 Turkey apple carrot burgers
Boring burger? Not the case when you try this turkey burger recipe. These burgers are not only delicious but they are healthy, too. Add a spicy guava sauce to really add a kick.
Ingredients:
1 pound ground turkey
1 pound ground pork
1 apple, peeled and grated
1 carrot, peeled and grated
Cumin, cayenne, seasoning salt (about 1 teaspoon of each, or to your taste)
Dash salt
Dash pepper
1 tablespoon Greek yogurt
Buns
Directions:
Combine all of the ingredients until incorporated, being careful not to over-mix.
Shape into the desired size and either grill for 20 minutes or cook in a large cast iron skillet with olive oil, for about 4 minutes on the first side, then flip and cover the skillet with a lid and cook for another 6 minutes. (One more flip might be necessary.)
Spread the Greek yogurt on the buns, then add the spicy guava sauce (recipe below).
Serve with the lettuce, avocado, red onion, tomato, cheese of your choice, and any other condiments you enjoy.
Spicy guava sauce
Ingredients:
1/2 cup guava jelly
3 tablespoons ketchup
2 tablespoons brown sugar
1 teaspoon cayenne pepper
1 teaspoon cumin
Directions:
In a small sauce pan, heat the guava jelly, ketchup, brown sugar, cayenne and cumin together on low heat, stirring until combined. Serve with the burgers.
More turkey burger recipes
Juicy turkey burgers
Turkey burgers with veggies
Tasty turkey burgers
---
More From SheKnows Explorer
---
---