How to make leftovers last
There is nothing worse than whipping up a delightful meal for the family, only to have leftovers no one will eat. Follow just a few ideas, and you'll be armed with creative and delicious ways to make your leftovers last -- to your family's delight!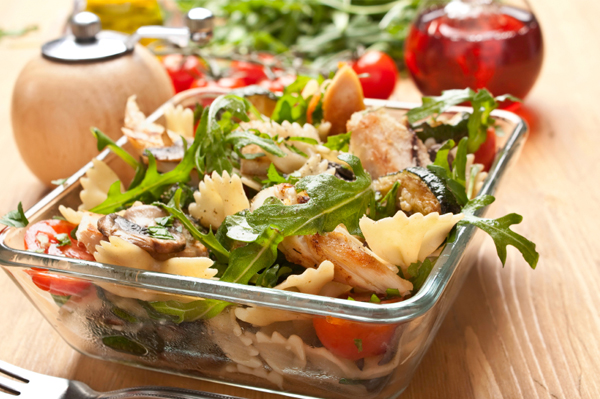 Tacos or wraps
Leftover ground beef? Add some beans or rice and wrap it up. Leftover chicken? Shred it and mix it into a tasty taco. Tacos and tortillas can be invaluable items to help make leftovers last. By adding a handful of other ingredients to leftover meats like ground beef, chicken and pork, you can make a Latin-inspired dish out of last night's meal.
Items to add:
Black beans
Rice
Corn
Sautéed or fresh veggies
Sour cream
Salsa
Salads
Salads aren't just for veggies! You can make a substantial meal with salads when you toss in a few leftover items.
Items to add:
Hard-boiled eggs
Diced ham, turkey or shrimp
Chopped vegetables
Corn
Fruit (apples, pears, orange slices)
Nuts
Pizza
Isn't pizza just about everyone's favorite food? A good idea for using up leftover bits and pieces of food is to create a unique pizza -- something tasty that you definitely wouldn't get from delivery! Keep a few pizza shells in the freezer or dry mixes in the pantry that you can whip up at a moment's notice and top with your favorite leftover items.
Items to add:
The small wedges of cheese in the fridge: grate them to make a 3-cheese pizza.
Vegetables like fresh tomatoes, cucumbers, mushrooms and spinach: add feta cheese for a Greek-inspired pizza.
Bacon and eggs: makes a yummy breakfast-type pizza.
Chicken: add barbecue sauce instead of tomato sauce.
Ground beef: can be used to make a tasty Mexican pizza, using salsa instead of tomato sauce.
Potatoes: add dollops of sour cream or Ranch dressing after baking your pizza.
Frittatas or omelets
Frittatas and omelets seem like they were made with leftovers in mind! You can toss just about anything into them, stir them up, sprinkle with cheese, add some herbs and spices and you have a nutritious and tasty dish that doesn't look anything like last night's meal. Put the breakfast-for-dinner spin on the meal for even more fun!
Items to add:
Vegetables like mushrooms, onions, tomatoes, peppers or corn
Shrimp
Meats like steak or pork
Cheese
Potatoes
Miscellaneous ideas
No one wants to eat the same dinner two or three nights in a row. With a few minor alterations, your family will be pleased with your new meal.
Think about:
Casseroles: A few staple ingredients like cream of mushroom or celery soup mixed and baked with leftovers can be a delight!
French toast: Leftover bread from last night's dinner may have dried up just slightly. Soaking it slightly in egg can turn it into an awesome French toast dish.
Soups: Who hasn't made soup from leftover Thanksgiving turkey? Keep that spirit in mind the rest of the year with other items. Think vegetable soup or chili.
Sandwiches: Use leftovers for sandwiches, but put a twist on them: grill them or press them as panini. Also consider using bagels for the bread.
Leftovers don't have to be boring. In fact, with a few adjustments, they might not even be recognizable as a recent meal -- and will taste just as good as the first time around.
More recipes to try
Grilled cheese and sundried tomato sandwiches
Barbecue chicken pizza
Grilled Brie and apple sandwiches
---
More From SheKnows Explorer
---
---