Healthy lunch makeovers: Tacos
It's taco day! Give your tacos a healthy makeover and make lunch a little more nutritious for your kids.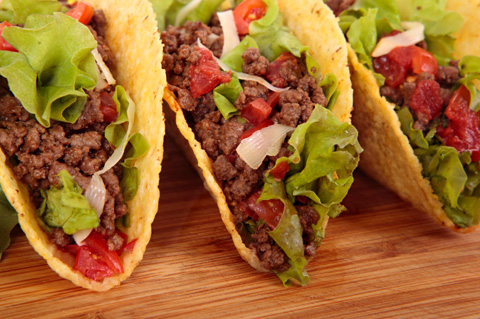 Tacos are generally greasy, messy and yummy. Though we can deal with the mess, we'd be better off without the grease. Follow these tips to create healthy tacos your whole family will love.
Turkey tacos
Instead of ground beef, use ground turkey to reduce the fat and calories. If your family isn't totally hip to ground turkey yet, you can combine ground turkey with lean ground beef and they won't even know the difference.
Bean bottom
Instead of filling up the shell completely with meat, put a layer of beans on the bottom and then some meat on top of them. Beans are high in fiber and vitamins. You can find canned refried beans that are non-fat and just as delicious as the full-fat variety.
Skip the salt
If you want to reduce your family's sodium intake, eliminate the use of salt while cooking. For taco meat, all you need is garlic powder, black pepper and/or chili powder and you'll be set.
Load 'em up with veggies
Reduce the amount of meat in your tacos, and load them up with more vegetables. You don't have to stick to just lettuce and tomato, everything from onions and peppers to olives and avocado are great on tacos.
Less sour cream, more salsa
Sour cream is just overload when it comes to tacos. Eliminate it altogether, or if your kids really love it -- use the non-fat variety. Salsa is generally very healthy, as long as it's not high in sodium. Read the labels and purchase low-sodium salsa or hot sauce to keep sodium intake in check. You don't have to stick to traditional salsa either -- mango salsa is delicious on tacos as well.
Make your own shells
Instead of store-bought taco shells, make your own at home. Don't deep fry them. Instead, spray corn tortillas with a little cooking spray and bake them in the oven until they are crispy and delicious. If you want soft tacos, use whole wheat tortillas instead of flour.
More about lunch
3 Artful sandwich ideas
Lunchbox cures for common food allergies
Kid-friendly pasta recipes for lunch