Healthy lunch makeovers: Mac and cheese
Mac and cheese is a favorite lunch (or dinner) for many kids across the country. Follow these tips and tricks to make your macaroni and cheese recipe a whole lot healthier.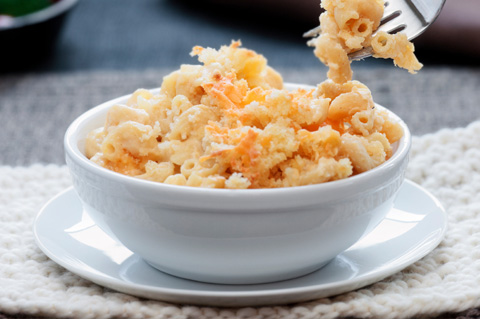 Rethink your cheese
Hopefully you aren't using that powdered cheese that comes in the blue box. If you are, toss it aside. When making homemade macaroni and cheese, most people use Velveeta or full-fat cheddar cheese. However, you have a number of other options, including part-skim cheddar or Jack cheese, Parmesan, Asiago or even goat cheese.
Update your pasta
If you aren't willing to give up the cheesy goodness of Velveeta or cheddar cheese, you should at least change your pasta. Whole wheat macaroni is a healthier alternative to the traditional variety. And when it comes to mac and cheese, don't limit yourself to elbow macaroni. Kids love variety -- so mix it up with spirals, wheels, bow ties and more.
Sneak in veggies
If the kids are going to devour mac and cheese, you might as well sneak in some vegetables too. MarthaStewart.com has a fabulous healthy macaroni and cheese recipe made with a little cheddar, ricotta and Parmesan, plus a whole butternut squash. This recipe is so delicious that your kids won't even be able to tell that the squash is in there. We also like this similar recipe which uses whole wheat macaroni and Greek yogurt.
Healthy mac and cheese
Serves 4
Ingredients:
12-ounce package of whole wheat macaroni, cooked
1 cup butternut squash, cubed, boiled and puréed
1 cup cauliflower, boiled and puréed
1 cup non-fat milk
1 tablespoon organic butter
4 tablespoons non-fat Greek yogurt
1 cup shredded part-skim sharp cheddar cheese
1/2 cup shredded non-fat Monterey Jack cheese
Salt and pepper to taste
Shredded Parmesan for garnish
Directions:
Preheat oven to 400 degrees F.
Place squash purée, cauliflower purée, milk butter and yogurt in a large pan over medium heat, and stir until well combined. When the mixture starts to simmer slowly begin adding the cheeses, stirring the entire time.
When the cheese is completely melted, season with salt and pepper to taste.
Slowly stir in the cooked macaroni, a little bit at a time to ensure the pasta becomes saturated with the cheese mixture.
Once all of the macaroni is in the pan, transfer the mixture to a glass casserole dish.
Sprinkle Parmesan over the top and bake for 25 minutes.
More about lunch
3 Artful sandwich ideas
Lunchbox cures for common food allergies
Kid-friendly pasta recipes for lunch