Healthy lunch makeovers: Grilled cheese
Everyone loves grilled cheese. Kids love the ooey gooey goodness and parents love the convenience. Give your child's grilled cheese sandwich a healthy makeover with these simple tips.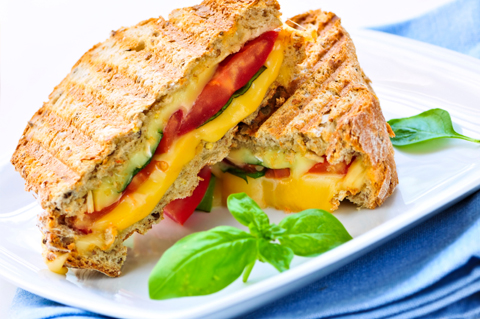 Grilled cheese is an easy-to-make lunch that almost every child loves. Perfect on its own or with a cup of tomato soup, grilled cheese is served in millions of households across the country. Though yummy, grilled cheese sandwiches aren't the most nutritious option for kids. However with a couple simple changes, you can serve your children a healthier version of grilled cheese.
Choose the right cheese
Processed American cheese slices are probably one of the worst choices for grilled cheese sandwiches if you are trying to eat healthy. Instead, look for cheese that is low in fat and then don't use too much. Goat cheese is a delicious choice, as is Parmesan. Many people love grilled cheese sandwiches made with Asiago, low-fat cheddar and skim mozzarella as well.
Ditch the white bread
Though it might be tempting to butter up two slices of fluffy white bread, you have a number of more nutritious alternatives. For a healthy lunch makeover, select a whole wheat or multi-grain bread. Skip the gobs of butter and cook your grilled cheese in a panini press or nonstick skillet with some butter-flavored cooking spray -- or just lighten up on the amount of butter you use.
Add on veggies
Sneak veggies into your kid's lunch between the slices of bread. Baby spinach, roasted red peppers, fresh or sun-dried tomatoes, arugula and even salsa make fabulous additions to grilled cheese sandwiches. Very thinly sliced apples are also terrific, especially with cheddar or Swiss. Herbs such as fresh basil, parsley or even mint are also wonderful additions to grilled cheese sandwiches.
More about lunch
3 Artful sandwich ideas
Lunchbox cures for common food allergies
Kid-friendly pasta recipes for lunch