Healthy lunch makeovers: Chicken fingers
Kids love chicken nuggets and chicken fingers. However, the fast food variety (and even frozen food type) can be full of fat and sodium. Give your child's lunch a healthy makeover with this recipe for homemade crispy chicken fingers.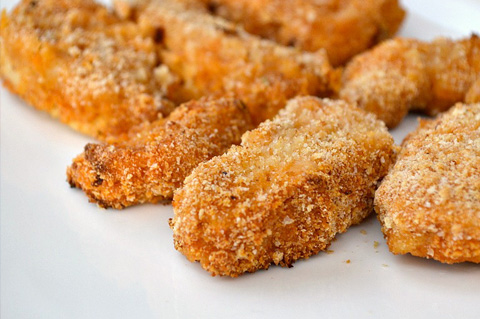 Crunchy healthy chicken fingers
Serves 4
In this recipe, adapted from Shape Magazine, chicken fingers get a boost of crispiness and omega-3 in the form of walnuts.
Ingredients:
3 tablespoons Dijonnaise
1/4 teaspoon garlic powder
1 pound chicken breast tenders
1-1/2 teaspoons canola oil
1/2 cup whole wheat panko breadcrumbs
1/4 cup walnuts
3 tablespoons freshly grated Parmesan
1/4 teaspoon salt
1/4 teaspoon ground black pepper
Cooking spray
Directions:
Preheat oven to 425 degrees F.
Combine Dijonnaise and garlic powder in a shallow dish. If you don't have Dijonnaise, mix light mayonnaise and brown mustard to taste. Add chicken tenders to the dish and coat well, then set aside.
Heat canola oil in a skillet over medium heat. Add breadcrumbs and cook for 4-5 minutes, stirring often until crumbs are golden brown. Transfer toasted breadcrumbs to a shallow dish.
Arrange walnuts (or almonds if you prefer) on a baking sheet. Toast in the oven for 3 minutes. Let cool and then finely chop. Add chopped nuts, Parmesan and seasonings to the breadcrumbs and toss well.
Place a wire rack on a large baking sheet and spray with cooking spray. Dip the chicken fingers in the breadcrumb mixture and place on the wire rack.
Spray the chicken finger very lightly with cooking spray. Bake for 12-14 minutes until crispy and cooked through.
When it comes to dipping, kids love ketchup and barbecue sauce. Light honey mustard, fat-free Ranch dressing and even avocado dipping sauce are all great with chicken fingers.
More about lunch
3 Artful sandwich ideas
Lunchbox cures for common food allergies
Kid-friendly pasta recipes for lunch