Healthy lunch makeovers: Hot dogs
Hot dogs are a lunch favorite among kids across the country. However, they aren't very healthy at all. This summer, give your kids' lunch a healthy makeover with these alternatives to traditional hot dogs.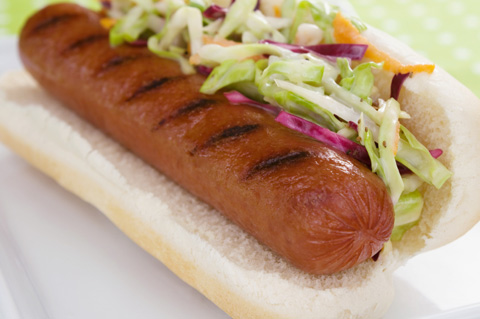 Though delicious, many hot dogs are filled with salty flavorings, curing agents, saturated fat, nasty fillers and preservatives. High in sodium and low in nutritional value, they are certainly not the best option for your child's lunch or dinner. However, not all hot dogs are that bad. You need to do a little research and read the labels thoroughly to find healthier hot dogs.
Fat-free isn't always better
You'll find a number of hot dogs in your grocery store labeled as no fat. But in the case of hot dogs, we've found that the no fat variety usually aren't healthiest. Many fat-free hot dogs are extremely high in sodium and preservatives. So when reading the packaging, look for hot dogs that contain 2 or fewer grams of saturated fat and less than 400 mg of sodium. Jenny-O Turkey Franks are a nice choice with just 70 calories, 1.5 grams of saturated fat and 370 mg of sodium per hot dog.
Where's the beef?
If you are looking for beef hot dogs, try to find hot dogs that are uncured or skinless. Though beef hot dogs are generally a little fattier than turkey or chicken, they don't have to be a nutritional disaster. Try Boar's Head Lite Skinless Beef Frankfurters at 90 calories, 2.5 grams of saturated fat and 270 mg of sodium each.
Veggie hot dogs
For vegetarian families, you can find a number of brands of vegetarian hot dogs these days including Morningstar Farms Veggie Dogs (50 calories, 0.5 total fat and 430 mg of sodium), Yves Meatless Hot Dogs (50 calories, 0.5 total fat and 400 mg of sodium) and Lightlife Smart Dogs (45 calories, 0 fat and 310 mg sodium). If you think that veggie hot dogs taste nasty, think again. When cooked on the grill or broiled in the oven, they are rather delicious.
Best buns & toppings
When giving your hot dogs a healthy makeover, don't forget about the buns. Instead of traditional white bread buns, choose whole grain buns instead. When it comes to toppings, skip the boring ketchup and mustard or the high fat and calories of chili and cheese. Here are some of our favorite healthy toppings:
Chopped avocado, purple onion and sprouts
Chopped tomatoes, mangos and jalapenos
Shredded carrot and cucumber with cilantro and lime
Mashed kidney beans and crumbled turkey bacon
Crushed pineapple
More about lunch
3 Artful sandwich ideas
Lunchbox cures for common food allergies
Kid-friendly pasta recipes for lunch