Healthy lunch makeovers: French fries
French fries are the perfect side to hamburgers, hot dogs and other kids' favorites. Though delicious, traditional French fries are far from nutritious. Give your lunch a healthy makeover and try something different on the side.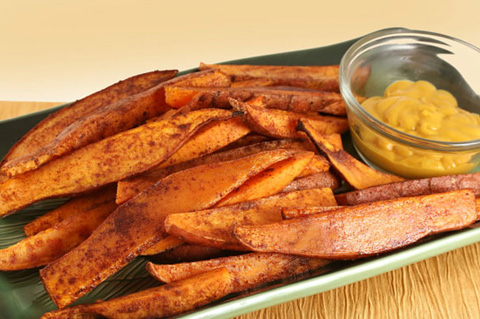 Every kid (and adult!) loves French fries. However, if you are looking for a healthier alternative to greasy, salty fries, you can find plenty of choices. From oven baked fries to crispy eggplant fries, your whole family will love these options.
Sweet potato fries
Baked sweet potato fries are an amazing alternative to traditional French fries. They are much more nutritious than their deep-fried white potato counterparts. Sweet potato fries are very easy to make. All you need are the potatoes, olive oil, black pepper and other spices. Check out this recipe for easy baked sweet potato fries.
Steak-cut oven fries
Your fries don't have to be fried. Cut russet potatoes lengthwise into wedges, leaving the skin on. Toss the potato wedges in a plastic bag with olive oil and any spices you'd like. Preheat your oven to 500 degrees F and place a baking sheet on the center rack. Preheat the sheet for 10 minutes and then carefully remove from the oven. Arrange the potato wedges (cut side down) on the sheet, keeping them evenly spaced. Turn down the oven to 450 degrees F and bake the wedges for 25-30 minutes until crisp. Season to taste.
Baked zucchini fries
Swap out potatoes for other veggies to give your kids a more nutritious alternative. These vegan kid-friendly zucchini fries are coated with flour, egg replacer and whole wheat bread crumbs, and then baked in the oven. You can add pumpkin seed kernels to the coating to make these baked zucchini fries even crisper.
Crispy baked eggplant fries
When your kids crave French fries, it's actually the crispiness that they want. Skip traditional fries and save the calories and fat by choosing eggplant fries instead. You'll be surprised at how crispy and delicious these baked eggplant fries really are. Serve them with everything from homemade chicken nuggets to sandwiches to your favorite burgers.
Southwest cactus fries
When giving your kids' lunches and snacks a healthier makeover, you need to think outside the box. Instead of frying up potatoes, bake some cactus instead -- yes, cactus! Strips of cactus, egg whites and panko breadcrumbs come together beautifully to create these cactus fries. Kids will love dipping them in low-fat sour cream, or the accompanying avocado dipping sauce that is included with this cactus fries recipe.
More about lunch
3 Artful sandwich ideas
Lunchbox cures for common food allergies
Kid-friendly pasta recipes for lunch