Healthy lunch makeovers: Sloppy joes
For a hearty, old fashioned lunch, you can't beat sloppy joes. To make the traditional recipe a little more nutritious, give your sloppy joes a healthy makeover by using ground turkey instead of beef -- and adding kidney beans for fiber.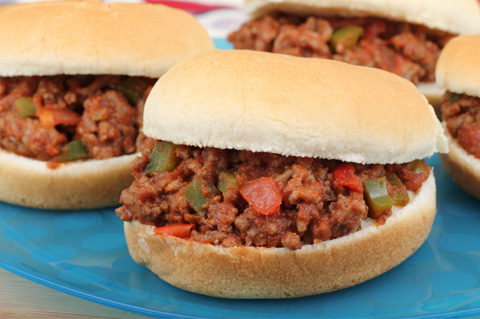 Healthy sloppy joes
Serves 6
Ingredients:
Cooking spray
1 medium yellow onion, finely chopped
1 large sweet red pepper, seeded and finely chopped
1 pound lean ground turkey
2 medium tomatoes, chopped
1 can (no-salt added) kidney beans, drained
1/2 cup tomato paste
4 tablespoons cider vinegar
3/4 teaspoon brown sugar
1/4 teaspoon cinnamon
1/2 teaspoon salt
1/2 teaspoon black pepper
6 whole grain hamburger buns
Directions:
Spray a large skillet with cooking spray and heat over medium heat. Add onion and pepper. Cook, stirring for 4-5 minutes.
Add the ground turkey to the skillet and cook until browned, breaking apart with a wooden spoon.
In a small bowl, mash the kidney beans with the back of a fork.
Add mashed beans, tomato paste, vinegar, brown sugar and spices to the skillet with the turkey. Stir and cook for an additional 5 minutes.
Using a slotted spoon, divide mixture evenly between the six buns and serve.
Healthy sides
Instead of greasy fries or store-bought potato chips, make your own chips at home. Check out this recipe for baked sweet potato chips. These vegan favorites are easy to make and really tasty.
If your kids insist on fries, try these variations:
When it comes to coleslaw, potato salad and other mayo-based salads, the easiest thing to do to make them healthier is to substitute fat-free mayonnaise for the full-fat version. A fresh fruit salad is also a delicious summer side that goes perfectly with sloppy joes.
More about lunch
3 Artful sandwich ideas
Lunchbox cures for common food allergies
Kid-friendly pasta recipes for lunch