Outdoor food making station ideas
Make food preparation and serving simple with organized outdoor ideas.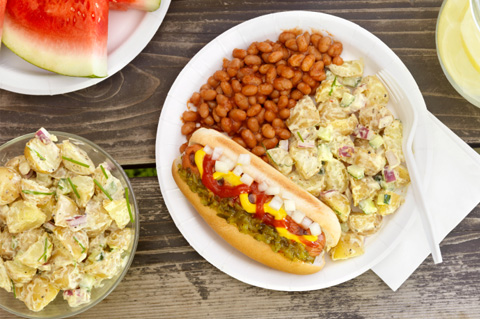 A favorite summer ritual is cooking and eating outdoors. Whether it's a family patio meal or a gathering of friends and family, when it comes to your prep and menu, make it safe and simple. You'll want to keep the bugs at bay and have a setup that makes food preparation and serving easy, keeping hot foods warm and cold foods fresh and cool.
Divide and conquer
Burgers, hot dogs, brats, steaks, ribs and chicken -- grilling is often the centerpiece of outdoor meals. Set up your stations so that the entree can go straight from the grill to the plates. Have an area with plates, napkins and cutlery nearby so guests can be served as the grilling is completed. Roll cutlery in a napkin and secure with string for easy carrying and grab-and-go convenience. Designate a prep area near the grill, stocked with spices and oils, foil wrap and grilling tools. Space it to accommodate more than one person so someone can man the grill while another person seasons, chops or wraps fresh veggies to be cooked over the fire.
Make another station close by for bread and buns -- it allows burgers, hot dogs and brats to be snuggled right into the buns as they come off the grill. This is where you set up condiments like mustard, ketchup, relishes and slices of tomato and other popular toppers. Your hungry gang can dress the buns and move smoothly down the line.
A station for side dishes is next. Be sure to keep items like lettuce and potato salad cool. Nestle the serving dish in a larger bowl packed with ice to keep food cold and fresh. You might also consider purchasing mesh food domes that cover the dishes and eliminate the problem of pesky insects landing on the food. These domes are inexpensive and handy items that add protection and can be rinsed clean in the sink or loaded in the dishwasher. Get a few sizes so you can use them over bowls and platters when food is set out.
A sturdy rolling cart is really convenient for outdoor dining and can be used in a multitude of ways. Roll platters of hot grilled food right to the table so everyone can serve themselves -- or load it up with condiments, side dishes, or pitchers of iced tea and lemonade and a stack of non-breakable glasses for easy beverage service. You can transfer dessert and clean plates and cutlery from the kitchen to the table on it, and ferry the dirty dishes back inside to the dishwasher for a quick cleanup.
Set up a beverage center with a cooler full of cold drinks or a simple galvanized tub of ice that can keep bottles and cans icy cold. Plastic cups, a bottle opener and chilled dishes of fruit slices for garnish should all be together. A nearby receptacle for trash and can/bottle recycling is also smart and convenient.
QUICK TIP: Have guests put together their own kebabs to grill. Have a station with bowls of fresh veggies like pepper strips, onions, carrots and cauliflower florets, chunks of pineapple and tomato and cubed marinated beef, pork or chicken. Every guest can skewer their favorites, and then turn them over to the person in charge of the barbeque.
More tips
Getting kids involved: Salad dressing
Sandwich ideas
Blended red berry sorbet recipe
---
More From SheKnows Explorer
---
---