Playing with your food
If you've got picky eaters at the table or simply want to add some educational fun to your lunch routine, here are our favorite food games to play with the kids.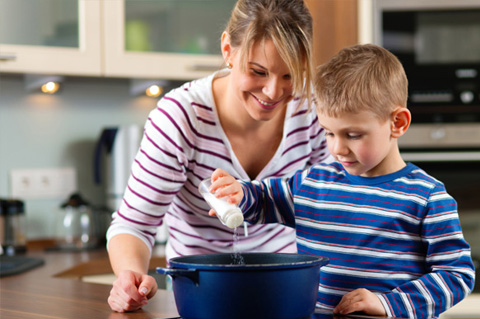 Teach your kids colors by feeding them a rainbow
Where is the excitement in white bread, white rice and pasta with white sauce? Pique your kiddo's palate -- and give them a delicious boost of nutrition -- by fixing a rainbow of foods for lunch. Since fresh fruits and vegetables can be eaten raw or lightly steamed with homemade hummus or a yogurt dressing, you don't even have to slave in the kitchen for this fun food game.
Colorful lunch ideas:
Make a multi-fruit salad and have your child tell you the color of each piece of fruit as she eats it.
Set an array of colorful fruits and vegetables out and see which child can name the most colors -- and eat the most colors.
For older kids who know their colors, challenge them to guess which smoothie color a combination of different colors will make (e.g., strawberries and blueberries will make a purple smoothie).
Cook an appetizing alphabet
The simplest way to cook up an alphabet is to buy dry alphabet pasta (in the bulk sections of many supermarkets or health food stores) and make a vegetable-rich soup, then ask the kids to eat their letters after identifying them. You can also set up a lunch bar with fruits, vegetables, whole grains, dairy products and lean proteins, then have the kids alphabetize lunch -- all foods that start with A can go on one side of their plate, all foods that start with B go on another side, etc. Get your kids involved even before you make lunch and ask them to give you a letter and help you pick out the foods that start with that letter.
Serve up mouthwatering mathematics
Lunch is the perfect time to hone your children's math skills. Set up bowls of raisins, nuts, carrots sticks, cubes of cheese, or other easily countable foods, then ask your kids to solve addition, subtraction, multiplication and division problems.
Examples:
If you have 10 raisins and 5 almonds, how many total items do you have?
If you have 5 cheese cubes, 3 carrot sticks, and 3 olives and you take away all of the olives, how many cheese cubes do you have left?
Kid chefs can learn measurements
To be expert kid sous chefs, your kids need to learn measurements, which will also help them in their math classes at school. This is also a great way to teach them portion control so they understand the true definition of serving sizes and make wiser choices when faced with supersized foods. Set measuring cups, measuring spoons and a scale on the table and have them measure and weigh every food they want to eat for lunch. If you have the time, bake cookies or quick bread to reinforce what they've learned.
Lunch doesn't just have to be about fixing your children something to eat. Use lunch as an fun opportunity to bond your family and give your kiddos a fun way to learn their colors, alphabet, math, measurements and cooking skills.
More ways to make food fun
Simple solutions for feeding picky eaters
Making mealtime fun for picky eaters
Fun family meal ideas