Fun ways to teach with food
Teach your kids healthy nutrition and sharpen their math skills by planning and preparing meals and snacks together!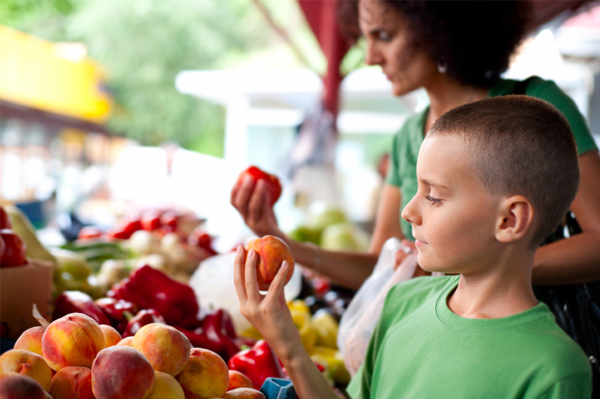 Choosing and prepping food with your kids is a great way to spend some time together, and it has an unexpected bonus: an opportunity to teach! They can learn about healthy and nutritious food choices, build their kitchen and cooking skills and even learn counting and math! Everyone gets smarter and more confident, with the payoff being a tasty meal!
Shopping
Kids gravitate toward salty snacks and fast foods, but talking them through your grocery shopping expedition helps them understand why better food choices are healthier for everyone. Hopefully you read labels on processed food, and children can learn by this example. Do a bit of research so you can explain in simple terms which vitamins and minerals they need. Once children understand that calcium from dairy helps strengthen bones and that carrots have minerals to protect eyesight, they might be more enthusiastic about these foods. Talk to them about fresh produce and foods that make up a balanced diet. Make it a game to have children help in selecting appropriate items for the family table. Good eating habits begin early and shopping provides teachable moments.
Have kids help you prepare your shopping list. Middle school-aged and older kids can write out the list and can also help decide how much to buy, which incorporates lessons in math and multiplication. Take a calculator on your shopping trip and let the child keep track of the cost of items as you fill the list. It's another lesson with some math and the basics of good budgeting!
Prep and cooking
Let kids help you measure and mix. They enjoy the shared time together doing kitchen activities, and it's an easy time to sneak in some lessons. Addition and subtraction are practiced as they measure ingredients and figure out how to double a recipe. They learn how many quarts are in a gallon and how many ounces add up to a pound. Have smaller kids count out ingredients: separate five slices of cucumber or eight broccolli trees for each family member, and then have them add to a total. Too many? Change it to a lower per-person count and they're learning subtraction. Children who help when you bake will enjoy the stirring, mixing and sneaking a sample -- but they'll also get some skills by measuring ingredients and reading the recipe out loud to Mom. They'll learn more than the difference between a tablespoon and a teaspoon measurement, and be building basic cooking and baking skills that will serve them well later in life.
Be sure to make it fun and express your appreciation for their help. Make these lessons subtle so the child feels like they're contributing to the meal, rather than feeling like they are taking a test!
QUICK TIP: Never grocery shop without a list! Have the kids help by jotting down items you need to restock. It's also a great way to stay on budget, make more nutritious choices, resist impulse buying and keep track of fats and calories in meals you're planning for the coming week. Children will learn by helping with the planning!
More tips
3 Childhood favorite recipes, all grown up
Peaches and cream with blueberries recipe
Family movie night snacks
---
More From SheKnows Explorer
---
---