Simple lunches for toddlers
Toddlers can be such picky eaters. Finding meals your toddler will love that are also nutritious can be tricky -- but with a little creativity you can make a meal that you both can be happy about.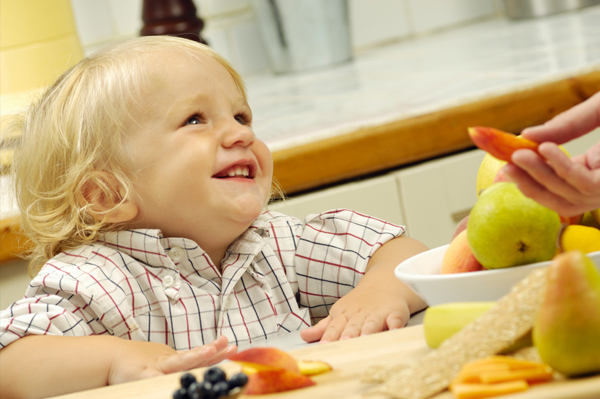 Toddlerhood is the perfect time to establish healthy eating habits. Unfortunately, it is also a time when kids are extra picky and often hesitant to try new foods. Take the stress out of figuring out what to serve for lunch with these simple ideas and healthy recipes for toddlers.
Keep food colorful
The more colorful a meal is, the more interesting and appealing it will be with your little one. Bright, fresh fruits and veggies come in every color and are healthy and visually appealing. Try serving a lunch with every color of the rainbow, or involve your toddler by allowing her to pick what colors she would like to see in a meal.
Do something different
Make a boring sandwich exciting again by using a cookie cutter to make it new and fun. Most supermarkets and big box stores sell cutters specially designed for sandwiches, but any cookie cutter you have on hand will work just fine.
Get kids involved with a build-your-own sandwich bar
Cater to picky eaters and multiple appetites in the family with a build-your-own sandwich bar. Place out slices of bread, condiments, and all of your favorite sandwich toppings and let kids choose what goes on their sandwich. Toddlers will love being involved with making their lunch, and it also lets the picky eaters choose whatever toppings sound good at the moment.
Peanut butter and apple sandwich
Ingredients:
1 slice of whole grain bread
2 tablespoons of peanut butter
6-8 thin apple slices
1 tablespoon of honey (for kids over 1 year only!)
Directions:
Very lightly toast the bread in the toaster.
Spread the peanut butter over the bread and top with thin apple slices.
Drizzle with 1 tablespoon of honey and serve.
Easy vegetable quesadilla recipe
Ingredients:
1 (8-inch) flour tortilla
1/2 cup shredded cheese
1/2 cup fresh or frozen vegetables.
Directions:
Cook the vegetables in a small skillet on the stove top until the vegetables are tender.
Heat a medium skillet over medium-high heat.
Add the flour tortilla and top with shredded cheese and cooked vegetables.
Fold the tortilla in half and continue to cook, turning halfway through, until both sides are golden-brown and the cheese is melted.
More great lunchbox ideas
Homemade chocolate peanut butter oat bars
Easy ethnic lunches for kids
Healthy egg salad sandwiches