Simple lunches from birth through year one
In most cases babies can start solids around 6 months of age. Many parents look forward to this milestone, but what should you feed your baby once solids have been introduced?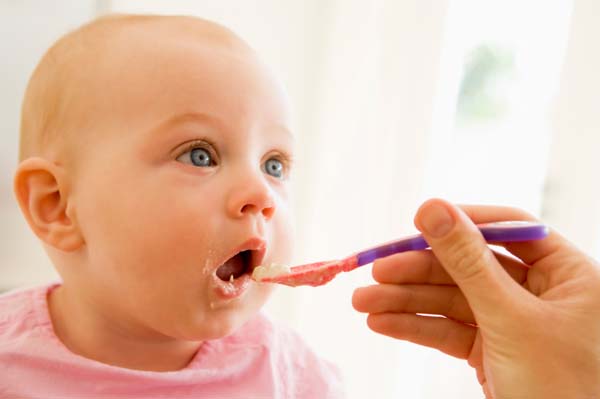 Look for readiness signs first
The American Academy of Pediatrics recommends breast milk as baby's sole source of nutrition from birth through 6 months of age. After that point, solids can be introduced as long as baby shows signs of readiness. These signs include: being able to sit up unassisted, having a fully developed pincer grasp and having the ability to easily guide food to his or her own mouth.
Purees
Pureed vegetables are a common first choice for many families. Pureed baby foods are widely available to purchase, but they are also surprisingly simple and more affordable to make yourself. All you need is a blender and lots of fruits and vegetables -- and you can quickly and easily puree a large batch of your own baby food.
Skipping the purees
A growing number of families are choosing a baby-led approach to introducing solids, where the baby feeds himself right from the start. This method of feeding can be very convenient because your baby can feed himself while the rest of the family is eating dinner, and you can offer him bits of whatever food he can manage that the family is already eating.
Keep it simple
Simple, whole foods are the easiest and most nutritious thing to feed your baby. Some popular first food choices for baby are: sliced avocado, banana, steamed apple or pear, steamed broccoli, and fresh cantaloupe or watermelon. Cooked whole grain pasta and brown rice are simple foods that are easy for little ones to pick up as well.
Try a new recipe
If you and your baby are feeling adventurous and want to branch out from basic fruits and veggies, you can always try a baby-friendly recipe that your little one will love.
Savory sweet potato recipe
Ingredients:
1 large sweet potato, peeled and cut into small cubes
1 teaspoon cinnamon
1 teaspoon cumin
1 pinch paprika
2 tablespoons extra virgin olive oil
Directions:
Preheat the oven to 350 degrees F.
Combine the seasoning with the olive oil in a bowl. Add the potato and toss until completely coated.
Transfer the potato cubes to a roasting pan, cover with any remaining olive oil mixture and roast in the oven for 20-30 minutes until potatoes are softened and begin to brown.
Cool completely and serve.
More lunchbox ideas
3 Artful sandwich ideas
8 Tips for an eco-friendly lunchbox
Lunchbox cures for common food allergies