How to pack a fun and smart picnic basket
Plan ahead for an ideal picnic to have favorite foods and keep things cool!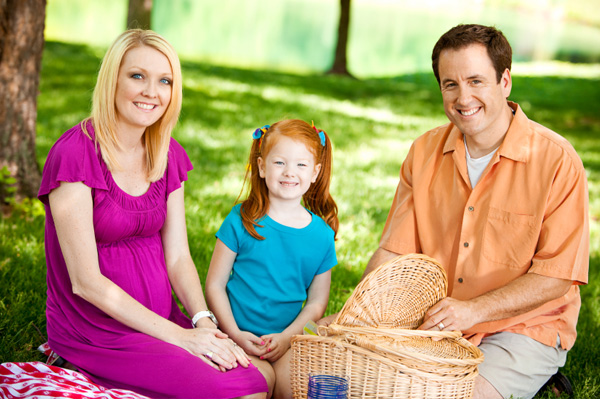 Summertime is an ideal time to load up the kids and go on a picnic... in a nearby park, at the shore or beside a cool mountain stream! Picnics are a warm weather ritual everyone enjoys and food somehow tastes even better in the great outdoors! Get organized so you have all that you need: snacks, beverages, cutlery and plates, plus plenty of yummy offerings for this special outdoor meal. Pack smart for food safety. It's important to keep certain items cold and fresh for your meal.
Cool it
An insulated carrier or lightweight ice chest helps keep food cool. Freeze bottles of water the night before and use them with some ice to pack around perishables to keep them fresh. You must always be careful about keeping sandwiches with mayonnaise and offerings like deviled eggs cold to avoid spoilage that can cause illness. As the water bottles slowly defrost, you'll have the bonus of chilled refreshments to sip.
Store beverages for your picnic in the coldest part of the refrigerator to get them icy cold. Handy pouch drinks -- such as Capri Sun Super V -- are a great choice. These drinks come in convenient disposable packages and are a kid favorite in fruit punch, berry and apple flavors. Moms like the fact that they contain servings of fruits and vegetables and are a nutritious blend of good taste and a source of fiber. They're a healthy choice, but kids only know they taste great!
Hands on
Finger foods and sandwiches are easy picnic choices. You can pack bite-sized veggies and sliced fruit -- like apple slices, carrots, chilled melon-wedges, chunks of tomato and strips of pepper -- for munching. Sandwich triangles are easy for little hands to handle -- and fillings should be kid-approved: peanut butter and jelly, luncheon meats and cheese, cold egg or tuna salad. Another picnic favorite is cold chicken, fried or grilled. Don't forget to pack plenty of napkins and a bag for your trash.
Apples, pears and bananas travel well, and seasonal fruit like watermelon is anticipated picnic fare. If there's a grill in the picnic area you're going to, menu options can expand to include burgers, brats and hot dogs. Pack buns, condiments and relishes to top them off. The grill can also be used for a kid-pleasing dessert. Roast marshmallows over a hot grill and assemble s'mores with crisp graham crackers and squares of chocolate to end the meal on a sweet note.
Other easy-tote picnic items: granola bars and baggies of trail mix, cookies and cookie bars, crackers and chips -- perhaps accompanied by a small container of simple dip (hummus, cream cheese or dressing kept chilled). Also consider a plastic tub of salad with lettuce, veggies, cold macaroni and a spicy dressing.
Taking time to plan and pack means you'll have the right mix of easy-to-carry food favorites, safely chilled, for a tasty and fun picnic at your destination.
More tips
Cookie bar recipes
Bite-sized food recipes
Healthy road trip snacks
---
More From SheKnows Explorer
---
---