Simple lunch ideas for tweens
Score major brownie points with these cool lunch ideas for tweens that look as good as they taste.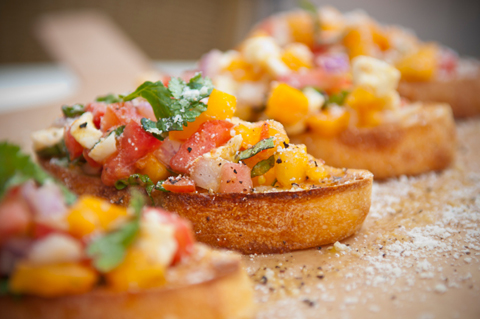 It happens without warning. Around the age of 12, your kids will start resenting you for those crustless cookie cutter sandwiches you've been packing since they were in Kindergarten. If you're the parent of a pre-teen, you've been there. If your little ones aren't quite that old, be prepared, that moment is coming.
It's a startling and exciting conversation, listening to them request more sophisticated-looking lunches. And then the panic sets in as you wonder how to top that go-to, heart-shaped cutout. Following is our top five super-cool tween lunch ideas:
Appetizers for lunch
Mini pizzas, bruschetta, hummus with pita, stuffed mushrooms and finger foods in general are always a big hit at lunch time.
Tea sandwiches
If your tween still likes to rock a good sandwich but wants nothing to do with cut out shapes, try following the British invasion with tea-sized sandwiches. Make their favorite sandwich using the thin-sliced variety of bread, cut off the crust and then cut the entire sandwich diagonally in both directions to create four triangles. Double-decker it with new ingredients like sprouts, cream cheese or cucumber with their usual turkey and cheese.
Asian noodle bowls
If your child's school allows chop sticks, by all mean, pack them! Cook rice noodles, angel hair pasta or spaghetti according to package directions and toss with sesame oil, steamed veggies, chicken, ginger and garlic for instant Chinese takeout. If peanut allergies are not an issue, top with toasted, crushed peanuts.
Go big or go home
Foods that come across as big and hearty, like a meatball hero or Italian sub, will be the envy of every cafeteria-going kid. But don't feel the need to fill your tween's lunchbox with a 12-foot sub. A sandwich-sized hero will be the right portion size and still give off a good gawk factor.
Sushi
While raw fish is risky, California or veggie rolls for lunch, especially if packed bento-style with sauces, tops our list for the ultimate cool factor. If your child isn't crazy about the taste of nori, try our recipe for veggie sushi rolls with kick-butt collard greens as the wrap.
More great lunch ideas
5 Healthy and satisfying lunch recipes
Best kept lunch secrets
Farm stand chicken salad recipe