Key lime pie recipe
Step up your key lime pie with this macadamia nut crust. Your family will love the beautiful flavor combinations and tart finish to any meal.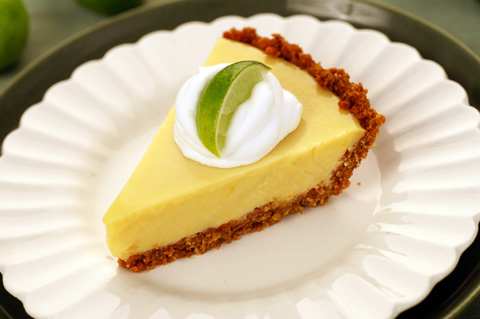 Key lime pie with macadamia nut crust
You do not have to head to the Florida Keys when you want a key lime pie, as nice as that would be. You can just whip this up in your kitchen, close your eyes and be in the tropics the moment you taste this creamy, tart pie!
Macadamia nut crust ingredients:
2 cups unsalted macadamia nuts, coarsely chopped (or grind in food processor)
1 cup graham cracker crumbs
1/2 cup sugar
Stick of melted butter
Crust directions:
Combine all ingredients and press into a 9-inch pie plate.
Bake at 350 degrees F for 15 minutes.
Remove from the oven and set aside to cool.
Key lime pie ingredients:
1 cup key lime juice
2 (14 ounce) cans sweetened condensed milk
6 egg yolks
1 teaspoon lime zest
Key lime pie directions:
In a large bowl, either with a whisk or an electric mixer, mix sweetened condensed milk, key lime juice, lime zest and egg yolks.
Pour into cooled macadamia nut crust. Bake at 350 degrees F for 10 minutes.
Remove from the oven and let cool for about 15 to 20 minutes.
Refrigerate at least 4 hours to allow pie to set. Top with homemade whipped cream.
Whipped cream ingredients:
1 cup heavy cream
1/2 to 3/4 cup sugar
Whipped cream directions:
Place metal mixing bowl (or glass) and beaters in freezer to chill.
Add cold heavy cream to the chilled mixing bowl and beat, slowly adding sugar.
Beat until soft peaks appear. (Do not overbeat or you will have butter!)
Try these other key lime pie recipes
Easy key lime pie
Floridian key lime pie
Key lime pie cake bars
---
More From SheKnows Explorer
---
---